Review: Asus Transformer Book T100 – Windows 8 Tablet-Laptop Done Right! | TechTree.com
Review: Asus Transformer Book T100 – Windows 8 Tablet-Laptop Done Right!
A great package of a 10" tablet /laptop and good price all wrapped into one.
Rating

4
/5
09th Dec 2013
Pros:
Good Tablet-cum-Laptop detachable solution; Windows 8.1 OS; Good touchscreen; Good battery life.
Cons:
Only 2 GB RAM; Hardly any HDD space; Only one USB port.
Asus Transformer Book T100
MRP: Rs 34,000
Who Should Buy
- If you want a good Tablet-cum-Laptop
- A Tablet with proper Windows 8.1, not RT silliness nor Android laziness
- Great as a portable solution on the move
- Perfect solution for office work

Who Shouldn't Buy
- If don't care for Tablet feature but just want a laptop
- Want a bigger screen and higher resolution
- Are always juggling several USB devices
- Want for more than just office work such as Photo editing and Video work.

Do you remember netbooks? The low-powered pseudo laptops that were more of a compromise slapped on with Windows XP on a really small screen. Final outcome, bleh!
When I heard of ASUS Transformer Book T100, I could only think of two things, awesome! mini-gun wielding cyborgs from Terminator and second, "Not another netbook". But as I opened the package and started to play around with it, I was pleasantly surprised. Here's why…
Build Quality
The Asus T100 is made of good quality. It is sturdy and feels good. However, don't expect it to feel like a premium tablet. It doesn't pretend to be like one and neither will you feel it, but certainly far from cheap.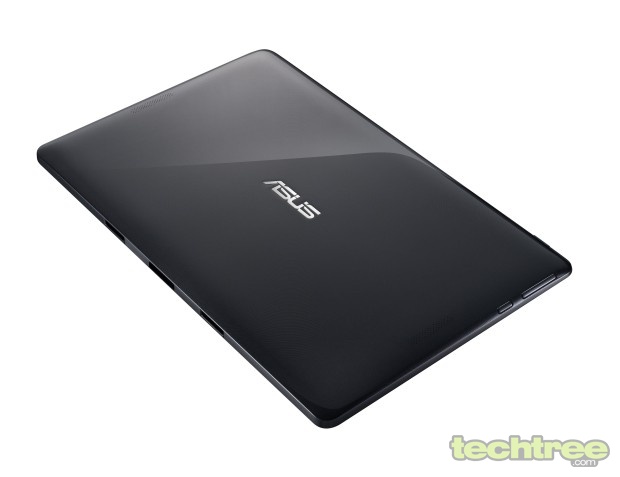 The stereo speakers are on the top of the laptop on either side of the screens.
The Screen
This hybrid Windows 8.1 laptop has a detachable touchscreen, which is truly awesome. It instantly brings a lot of goodies to the tablet. Namely…
- It runs a full desktop version of Windows OS on it, not Windows RT silliness and neither any of the constricted mobile OSes.
- You can have laptop and tablet mode whenever you like and it is truly seamless.
- You can run all your desktop programs which you love, no need to go hunting for app substitutes.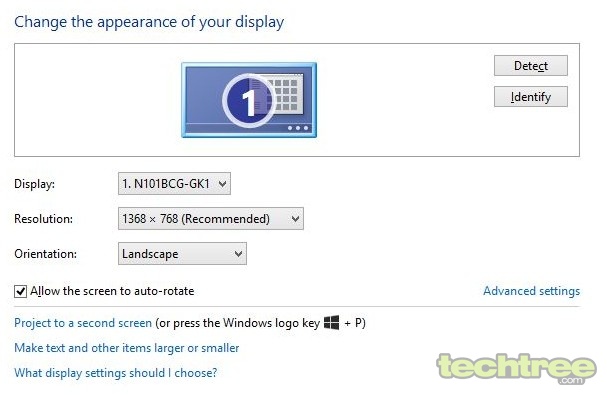 We've heard of 1366 x 768 but 1368 x 768?
The screen quality itself isn't spectacular like top-end tablets are, but it is an IPS screen with 5 point multi-touch. Being an IPS screen it sure has good colour reproduction and good viewing angles. The touchscreen is quite responsive; but there is one problem you'll face though. On a 10 inch screen, hitting icons on the screen can get tedious. Though Windows 8 does a better job on touchscreens, it still isn't exactly the best for it on such a small screen. This is where two things come into play, one increasing DPI size helps a lot especially for reading text and keyboard/mouse/touchscreen combo circumvents this. So you aren't exactly stranded, but isn't totally convenient either.
You'll be pleasantly surprised to use the screen even in laptop mode. It is always more natural to touch the screen to interact with what's on the screen than using just keyboard and mouse. Now you actually have three options to interact with the PC. Yes, this can seem to make the matters more complicated but it doesn't — you'll quite comfortably be able to use all three swapping back and forth comfortably, especially since we are used to touchscreen mobile phones now.
There's one thing you ought to be careful of, the base unit hinge that you place the screen on to, can get a little misleading. It has two satisfying clicks when you place the screen on it, but can often be mistaken if only one clicks into place. Which leads to any or all of the following issues…
- The keyboard/trackpad will refuse to work as it hasn't been placed properly leading you to think that the laptop is frozen or keypad does not work.
- Which in turn, you'll attempt to lift to investigate the issue, which means the keyboard will egregiously hang from the screen. Not good, this happened to me twice till I ensured I was doing it right.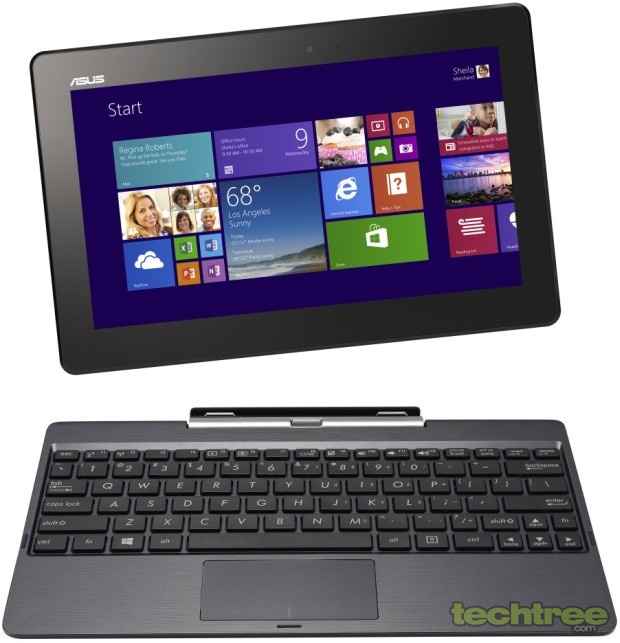 Connectivity Options
When it comes to laptops, most of us expect multiple connectivity options. ASUS's little Transformer Book T100 has them, but not as many as you'd expect. For starters, it isn't like your conventional laptop, it is a hybrid. That essentially means everything is built into the screen, whether it is the processor, the RAM, or the HDD, everything is in the tablet itself. What's left is the keyboard dock, which unfortunately has only one USB 3.0 port and this is unfortunate but not a biggie.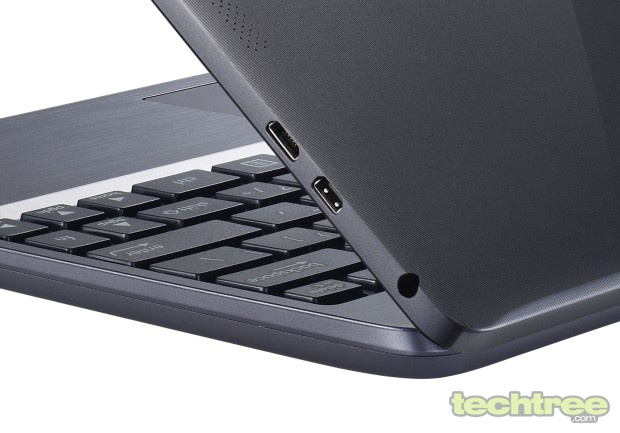 Mini-HDMI, Micro-USB and 3.5mm jack
The tablet itself has a Micro USB port for data and charging it (adaptor included), one Micro HDMI port to shoot video to TV's, one MicroSD card reader, and 3.5mm jack for Audio and an inbuilt mic. You also have a 1.2 MP front-facing camera for those in love with selfies and Skype.
Performance
Seeing an Atom processor at first, I didn't expect much in terms of performance from this laptop cum tablet, T100 certainly proved me wrong. First, we aren't talking about Atom processor of yesteryears — this is the Intel's brand new optimised for tablets 1.3 GHz quad-core Intel Atom Z3740 CPU, which supports a lot of tech jargon such as out-of order processing, and a beefier GPU. And it is no slouch.
Our PC Mark 07 gave us a score of around 2400 in multiple runs and that's very close to the Intel Core i3-powered line up in 'normal' laptops. That means this Rs 34,000 laptop hybrid easily ousts full-fledge laptops in many cases.
The latest 3D Mark didn't run for some reason, though we tried the older 2011 edition, which gave a score of E346 in Entry level category test. Which effectively means don't bother gaming on this one, as it's not meant for it. You can run modern day games on low resolution and low settings, but why bother on a 2 GB non-upgradable RAM machine? It'd be too much strain, stick to casual games, or games of old.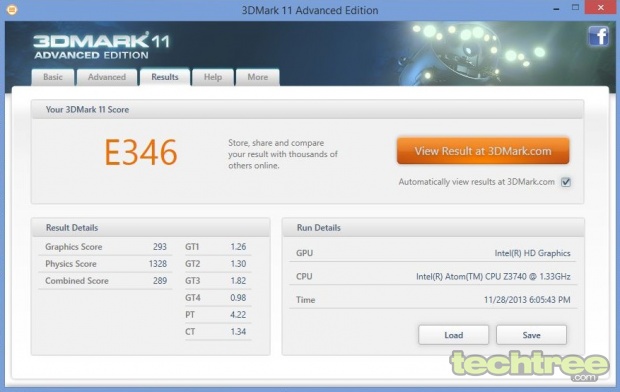 There was a weird issue we kept having with this laptop, its Wi-fi was unusually and excruciatingly slow. On diagnosis we realised this is not an issue with the entire line up, but with this particular review piece that has been doing the rounds. This brought me to the attention that the keyboard dock doesn't have a LAN port jack at all, but neither do Wi-Fi-only tablets.
Battery Life
ASUS has rated this T100 as having 11 hours battery life. And this is fairly accurate as it lasted us easily over 8 hours, with enough juice left in it when using it normally. Unfortunately, we faced issues running our usual tests on this. In any case, even if 8 hours is to be believed, regular Windows-based laptops cannot give more than 3 to 4 hours tops.
I had initially expected the keyboard dock to have an extra battery pack in it, but with the already great battery life it gives, it's obvious why it was unnecessary. However, the laptop still manages mysteriously to weigh 550 grams for the tablet alone and 520 grams just for the keyboard dock. What have they put in there, mini-weights?
I Need My Space
This tablet comes with an SSD drive so it does boot fast, but also gives very little space of 16 GB of which 14 GB and below of usable space. This means that if you use it for office work, you are fine but don't expect to load a lot multimedia in it. Though ASUS does give 1000 GB (that's 1 TB) worth of storage on the web. Personally, I don't trust online storage spaces for storing data expect perhaps for backup and sharing, this means that you'll have to invest in an external HDD for around Rs 4000. If you use a 3G data dongle when travelling, that means you can have either internet or extra space at one point in time due the single USB port.
Conclusion
Netbooks fad went away, then came Chromebooks, which are a whole different deal and now netbooks are back for the Windows 8.1 era and ASUS Transformer Book T100 is the way to go!
It's got great performance for its class, is full blown Windows 8.1, a good screen and behaves well as a tablet too. While the Rs 34,000 price isn't expensive for such a device, it is Rs 10,000 more than in the netbook range. It is one device I'd heartily recommend to anyone looking for both a Tablet and Laptop.
Features: 4/5
Design And Build Quality: 3.5/5
Performance: 4/5
Value For Money: 4/5
Mojo: 4/5
Overall Rating: 4/5
Specifications
- Operating System - Windows 8.1
- Display- 10.1" 16:9 IPS (1368x768)
- Intel Quad-Core Z3740 (1.33GHz base, 1.86GHz Turbo) w/ Intel HD Graphics (311MHz base, 667MHz Turbo)
- 2 GB RAM
- Internal Storage - 32 GB or 64 GB
- Dual-band Wi-Fi (2.4G/5G) 802.11 a/b/g/n, Bluetooth 4.0
- Size - 272 x 170 x 10.5 mm (tablet), 272 x 170 x 10.1mm (dock)
Click for full specs
TAGS: Laptops, Tablets, Windows, ASUS