Review: Canon EOS M — A Classy And Lightweight Mirrorless Camera
A delightful camera that blows all competition away.
Rating

4.5
/5
06th Dec 2013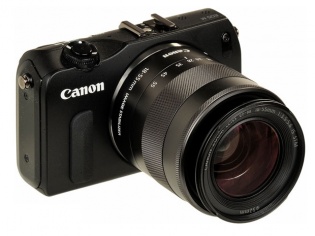 Pros:
Light weight; Brilliant colour reproduction; Quick to focus (with firmware update); Responsive touch screen; Easy to use; Loads of imaging options; In-body peripheral correction; Stereo speaker and external mic output; Well-built 18-55mm STM lens; EF lens adaptor that lets you load any lens on the body; Well-priced.
Cons:
Adaptor is expensive; No EVF; No Flash; Not too many lens options; No inbuilt GPS support.
Canon EOS M With 18-55mm f3.5-5.6 STM kit lens
Street Price: Rs 32,500
Who Should Buy it:
- Those who want compact cameras with larger sensors and touchscreen.
- Those looking for a brilliant and lightweight DSLR replacement that is well-priced.
- If you want a camera that is easy to use.
- A mirrorless camera that gives excellent colour-reproduction, is light, and offers DSLR-like controls.
- Those who like shooting videos.
Who Shouldn't:
- Those who want to use their existing EF lenses with this camera.
- Those who want an electronic view finder on their mirrorless camera.
- Enthusiasts who are looking for a camera with built-in Wi-Fi/Geo tagging support.

Everyone and their uncle these days seems to want a DSLR. However, these are bulky, expensive, and overwhelming for most new users. But the recent slew of mirrorless cameras with the APS-C sensor is all set to change that. These snappers offer the goodness of a standard mirrored DSLR, complete with interchangeable lenses and image quality, minus the bulk and confusion. Most options, however, are high priced, and hence out of reach for most enthusiasts. That is where Canon's EOS M comes as a breath of fresh air. But does it deliver despite an affordable price tag? Let's find out.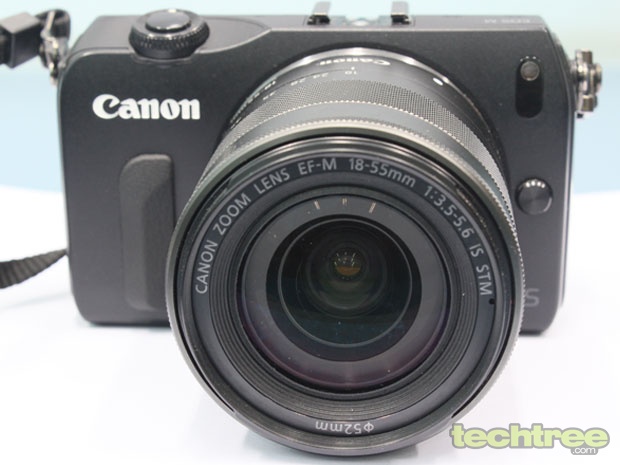 Aesthetics and Build
Like all other Canon SLRs, its sole mirrorless offering is also very robust in its build. Lighter (at 298 grams) and smaller than its most compact mirrored-DSLR (the 100D; which weighs 407 grams), the camera is a delight to hold.
It has no visible crevices, but there is one handy grip at the left of the lens. It's comfortable to hold and won't slip off easily. It comes with a special mount, and an 18-55 STM kit lens with AF and IS (auto focus and image stabilisation). You cannot turn off either from the lens, as the body controls both of these options. The camera does away with both, an electronic viewfinder (EVF) and a popup flash. Considering that I haven't used one EVF on a mirrorless camera that stands out, this is a smart move by Canon. Also, as a touch-enabled camera, it has done away with too many capture modes on the main dial.
The top of the cameras sports a stereo speakers, on/off key, a hot-shoe for an external EVF/Manual flash/ GPS receiver, and the main dial. With this control, you can switch between the full auto, manual controls, and video mode. More on than later.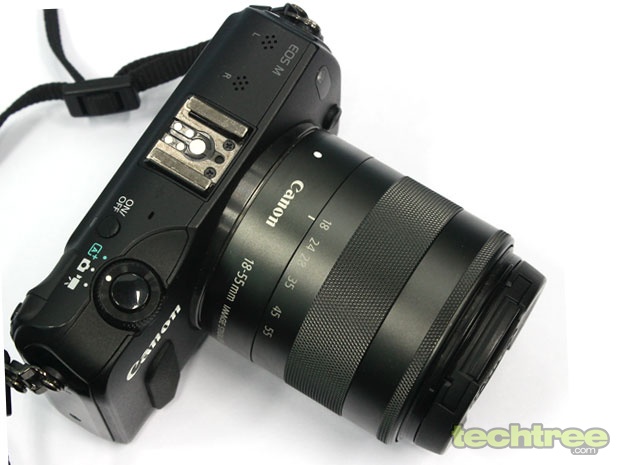 The back is dominated by a 3" touch-based LCD screen, the record button, Menu key (to change hardware settings), playback key, rotating dial with set functions, the ever helpful Q button and the Info key (to change shoot settings).
The left houses a mini HDMI-OUT, mini USB port, and external MIC jack.
As always, the camera has a sturdy build, and the autofocus motor is also not locked as in the old kit lenses. So it won't break if accidentally manhandled.
User Interface
Like I mentioned before, the camera functions in three modes — full auto, manual, and video. Set the dial to the camera icon, and hit the info button. The camera offers PASM (Program, Aperture Priority, Shutter Priority, and Manual) support, CA (creative filters), Portrait, Landscape, Macro, Sports, Night Portrait (using flash and tripod), Handheld Night Scene, and HDR Backlight Control.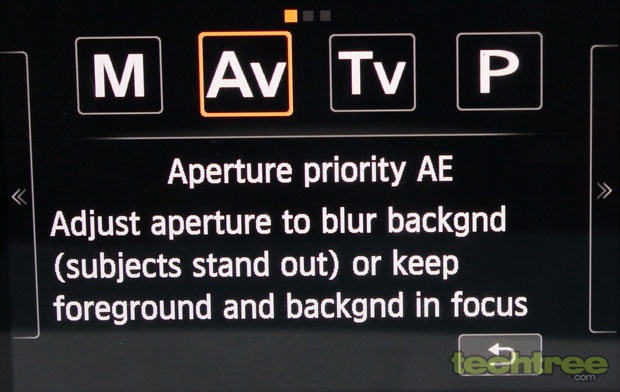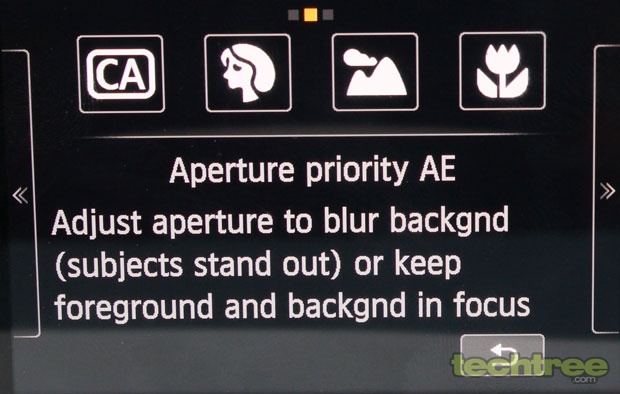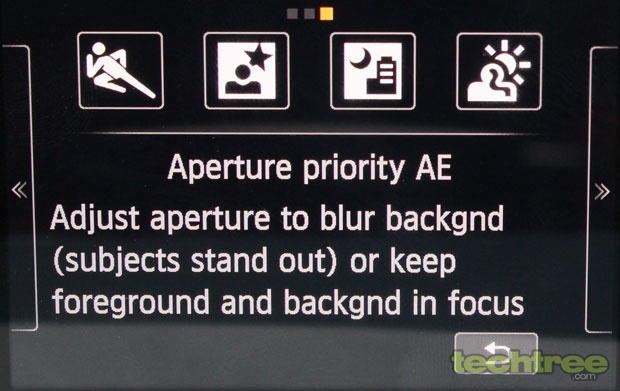 Of these, the HDR option takes three fast bracketed shots, and creates an exposure-based HDR. You can turn on the tone mapping for warmer tone-mapped clicks (switch to one of the PASM modes and hit the Menu key > Custom Functions> highlight tone priority, and you are good to go). The options in the Info mode change depending on your shooting mode. You can enable the touch-to-focus and touch-shutter buttons as required. The rotating dial around the Q button lets you toggle between the aperture, exposure, and shutter settings.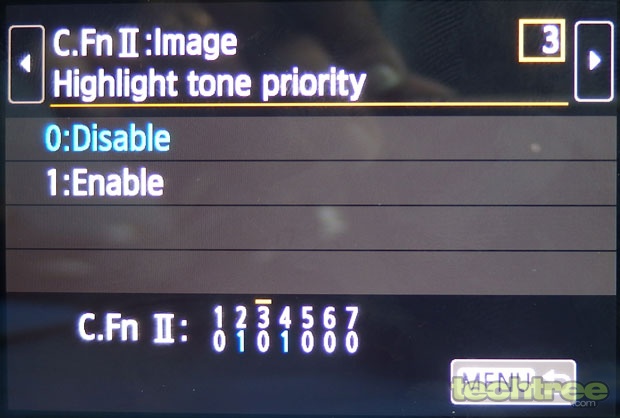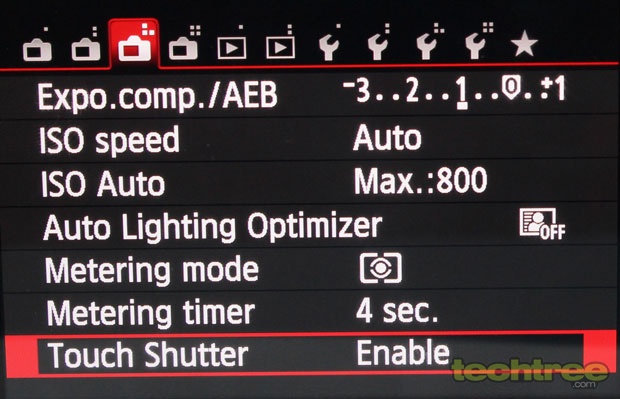 Since this baby isn't stuck with a viewfinder, focus points are not a big bother. However, the only downfall is that even in the macro mode, the minimum distance from the subject is over one feet, which defeats the purpose.
Overall, the UI is fluid, and easy to get used to, and when in doubt, the Q button comes to your rescue. Something that you can easily pick out of the box and go shutter bugging with ease.
Performance
The camera is an absolute delight to work with. Like I mentioned before, I don't really miss the EVF, but since I am used to the eyepiece, it does take some time to adjust. That said, with the view finder gone, you are no longer stuck with the 9-point focus that Canon is so proud of. While it does take some time to focus and click in the touchscreen mode, the firmware 2.0.2 upgrade takes care of things. The upgrade is easy to install, but it didn't work with the camera plugged into the system — keep a card reader handy.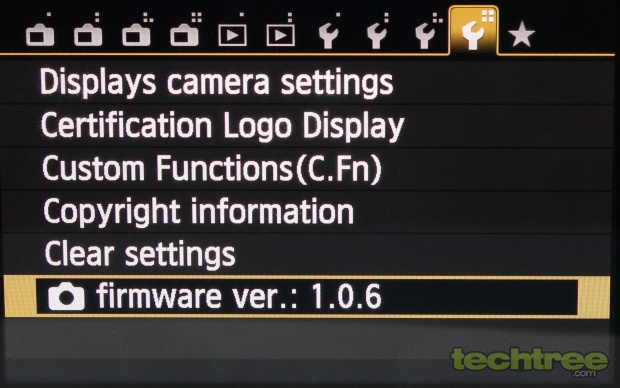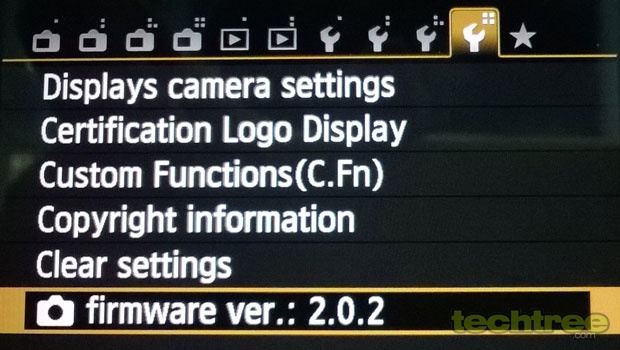 The touch screen is the best I've seen from Canon so far. It's responsive and quick. That said, Canon still doesn't offer in-built GPS, you'll need an extra accessory to geo-tag your pictures. Just like 600D and above, you get to play around with Creative Filters. Check out our Canon 100D review for the kind of effects these offer. Also you can switch between Picture Modes (Auto, Standard, Portrait, Landscape, Neutral, Faithful, Monochrome, User Defined 1-3), which can be further refined, or play around with White Balance settings (Auto, Daylight, Shade, Cloudy, Twilight and Sunset, Tungsten, White Fluorescent Light, Flash, Custom) for perfect shots. The camera supports both, HDR and tone mapping.
As far as ISO is concerned, you can go as high as 25,600. But in the tone mapped mode, it is restrained to 12,800. However, anything beyond 1600/3200 has too much grain anyway, so that upper limit doesn't matter.
Verdict
As people contemplate between bulk, user experience, and imaging quality, price is a major factor that can swing people's vote. Mirrorless cameras these days cost you a bomb, and that is where the EOS M comes as a breath of fresh air. A highly recommended snapper, you can also use your existing EF-S lenses with the EF-S to EF-M lens adapter. However, that will set you back by Rs 7500. Apart from the brilliant 18-55mm STM kit lens, you can check out the EF-M22mm f/2.0 STM, and EF-M11-22mm 1:4-5.6 IS STM which are available in the lineup. The next best thing for Canon lovers then is the non-touch EOS 600D (Rs 30,000); followed by the 650D (Rs 54,000), which is on its last leg of life.
At Rs 32,500, we highly recommend the Canon EOS M for those looking for a fairly compact camera with proper DSLR-type features and a similar APS-C sensor to boot.
Features: 4/5
Design And Build Quality: 5/5
Performance: 4.5/5
Value For Money: 4.5/5
Mojo: 4.5/5
Overall Rating: 4.5/5
Specifications:
APS-C Hybrid CMOS AF Sensor
18 megapixels (effective)
Canon EF-M lenses
RAW format support
Dust Delete Feature, Noise Reduction, utomatic Image Brightness Correction, Auto Lighting Optimizer, Highlight Tone Priority
Lens Aberration Correction: illumination correction, Chromatic aberration correction
ISO: 100 - 25600
MOV video support: 1920x1080 (Full HD) 30p/25p/24p; 1280x720 (HD) 60p/50p; 640x480 (SD) 30p/25p3" LCD Monitor
3" TFT LCD Capacitive touch screen
Weight Approx. 298 grams (CIPA Guidelines : Body + Battery Pack+ Card ),
Compatible battery: Battery Pack LP-E12