Review: Panasonic Viera TH-P50S60D Plasma TV | TechTree.com
Review: Panasonic Viera TH-P50S60D Plasma TV
Entry-level plasma with flagship-killing performance.
Rating

4.5
/5
03rd Dec 2013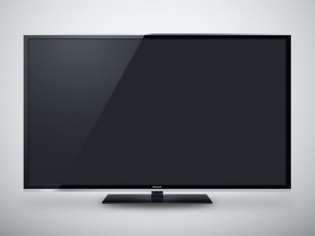 Pros:
Phenomenal picture quality; Excellent blacks; Accurate colours; No motion blur; Impressive viewing angles; Sturdily built.
Cons:
Excessive screen glare; Not enough HDMI ports.
Panasonic Viera TH-P50S60D Plasma TV
MRP: Rs 87,000
MOP: Rs 71,500

Being the resident TV geek, a lot of people ask me what's the best display technology out there. The answer invariably evokes an utter sense of disbelief. "How can plasma TVs be the best?!", they protest. The popular bone of contention being: "The friendly neighbourhood TV salesman says that they have many issues". I simply respond with a short primer on how plasma televisions offer vastly better blacks, colours, response time, and viewing angles—all without the infernally annoying backlight bleed that plagues virtually every single LCD panel out there to varying degrees.

A logical explanation, unfortunately, isn't always enough. "If that's the case, then why aren't people buying plasma TVs any more?", they ask. Well, there are an awful lot of "Beliebers" around. Ditto for the number of perverts rummaging the internet for child porn. Mass acceptance, you see, isn't a barometer of calibre or class. A vast majority of consumers fall hook, line, and sinker to marketing spiel and the word of the TV salesman—both of which aren't concerned with the best of your interests. In reality, there is nothing wrong with the technology. The plasma camp (Pioneer and Panasonic) simply lost out to massive marketing muscle of the big three LCD players—Samsung, LG, and Sony.

There's a reason why I have chosen to review the cheapest plasma TV Panasonic has to offer. Firstly, it's at least 15-20 grand cheaper than the most inexpensive LED-Backlit LCD TV out there. And secondly, it's from a manufacturer that has pulled out of the plasma game altogether. Sometimes it's worth knowing what you'll be missing out on.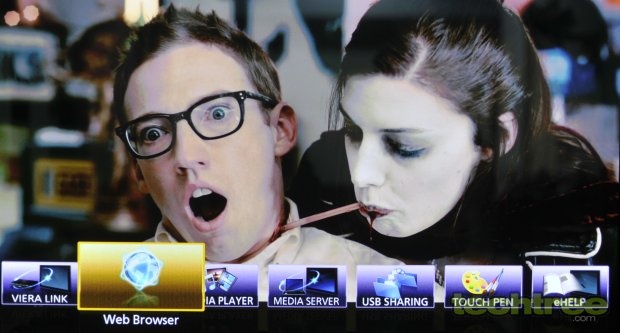 The TV sports a basic internet browser, but no smart TV features as such

A Katana To Your Swiss Army Knife
The Panasonic Viera TH-P50S60D Plasma TV embodies the principle of simplicity. For 70-odd grand, you get 50-inches of real estate, your standard I/O ports, Wi-Fi and Ethernet capability, USB playback, and a browser. This TV does not do 3D, so it will not launch footballs and shrapnel at your face. It's not marketed as a "Smart TV", so you can forget about bringing your family together with the magic of cooking apps or becoming the hippest hipster in your social networking circlejerk.

What it will do, however, is deliver uncompromising picture quality without any unnecessary frills. This is a focused instrument that's thoroughly good at its primary function. And that's what really matters. Because when it comes to chopping limbs off, a katana is infinitely more effective than a Swiss Army knife. The Panasonic S60D plasma TV, then, is the veritable katana-wielding Samurai to the LED TV's Aaron Ralston and his Swiss Army knife. There really is no contest, as you'll see in the course of this review.



Excessive screen glare is a problem unless you substantially darken your room

Design and Build Quality
Most people are concerned with how a TV looks when its switched off. I personally find gaudy silver bezels and unnecessary light show to be quite distracting. The Panasonic S60D has an all-black theme going on with the bezel and stand; interrupted only by a single chrome strip at the bottom of the bezel. At just over 3-inches, the TV isn't exactly thin but it's no CRT either. Practically speaking, it's only 3 cm thicker than an equivalent 50-inch Panasonic TH-L50E6D LED TV. So there's something seriously wrong with your furniture, if it cannot handle three extra centimetres. More importantly, I don't see how depth matters when you're viewing a TV from the front.

The only reason why we even care about these pointless parameters is because we have been brainwashed by marketing campaigns to that effect. Weight is another bubgear when it comes to plasma TVs. At 21 kg, the plasma is just 3.5 kg heavier than its LED cousin. This is surprising, considering the fact that the S60D plasma TV is built solidly with a glass panel and sturdy metal chassis. I would take the extra heft any day over the flimsy plastic chassis and wobbly stands that plague almost all LED TVs available at this price and beyond.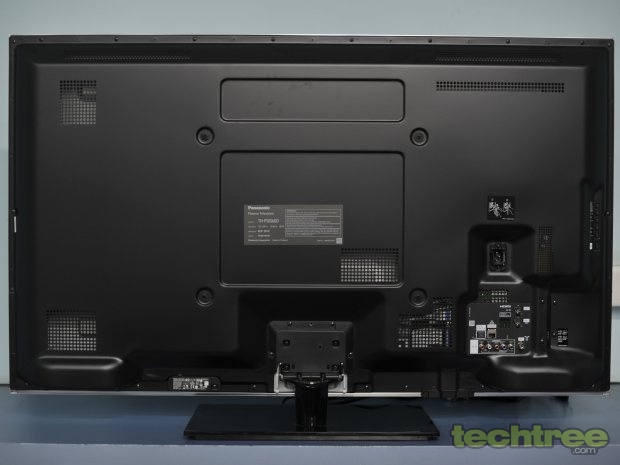 Connectivity and Features
Being the cheapest offering in Panasonic's plasma range, the S60D doesn't sport spectacular connectivity options. You get two HDMI inputs, a pair of USB ports, component and composite inputs, RF cable TV connector, and an Ethernet port next to an optical output. Other features include DLNA compatibility for watching movies, photos, and music over the home network. The TV includes wired and wireless networking and a basic browser, but don't bother using it since it's no fun without a smart remote. The inbuilt media player is fast, handles Full HD content well, and plays every major file format you can throw at it.

There are interesting additions such as the Viera Remote 2 app that turns your Android/iOS smartphone or tablet into a second screen that can either push video, picture, and website content to the TV, or pull the same onto the mobile device. You can even use the app to control your TV. The Swype and Share 2.0 feature allows you to share videos, photos, and web pages between the TV and mobile devices. The two USB ports can also be used to copy files between flash drives. The remote control may be small, but the buttons are large and differentiated well by shape and clever positioning. This makes it easier to operate the TV intuitively even in the dark.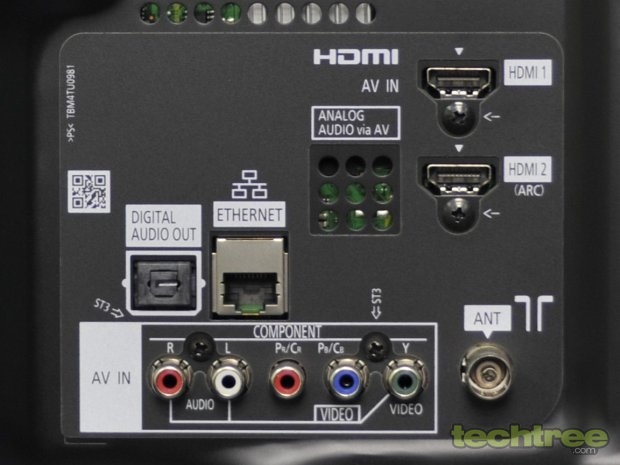 Performance
The TV isn't easy to calibrate thanks to a barrage of unnecessary video processing gimmicks thrown into the options menu. However, once you turn them all off, the results are spectacular. As expected, the Panasonic S60D impressed with its performance in the black level and white saturation tests. It easily showed every single colour swatch in contrast gradient test. That includes the hard-to-render red and blue gradients.

The gamma was near perfect, whereas the gradient banding test showed no sign of banding, discolouration, or any other dithering artefacts. What impressed the most were the response time, motion blur, and viewing angle tests. The colours and gamma levels were rock solid, no matter how further I shifted from the ideal viewing position. Response time is lightning quick, whereas motion blur is conspicuous by its absence. It just beggars belief how much better this TV performs over really expensive LED-Backlit LCD TVs. These fancy synthetic tests are one thing, but the real-world performance is what matters the most.

The visual fidelity put forth by the Panasonic S60D, especially considering its price, is downright phenomenal. It's hard to put into words the difference an emissive plasma display makes over the sort of image quality we are used to with ubiquitous transmissive LCD panels. The blacks, for example, are convincingly dark. When a pixel is switched off in a plasma TV, it really goes dark. It doesn't half-assedly block light like and LCD panel would. All this was more than evident on The Descent, Pandorum, and Sucker Punch Blu-rays. The TV thoroughly impressed me with the sort of black detail it could pull out of these movies.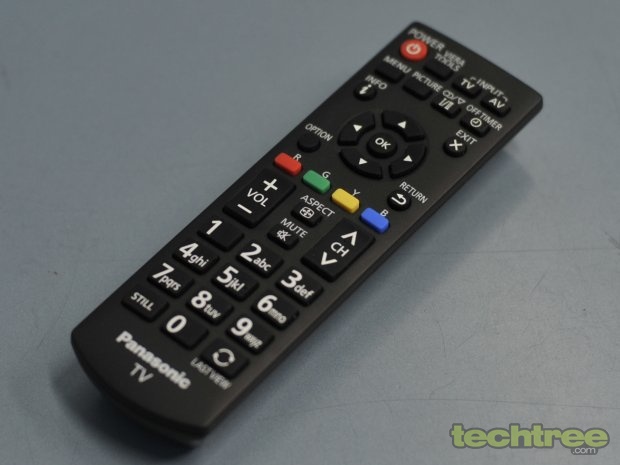 The way this plasma TV handles on-screen light sources is even more impressive. The headlamps in The Descent, the exaggerated fluorescent lights in Suck, and the resplendence of The Ark in Pandorum are brought to life by the TVs phenomenal contrast ratio. Once you're used to this sort of contrast, it's hard to go back to the lacklustre image put out by an LCD panel—even the really expensive ones. The wide colour gamut endows the picture with pleasing accuracy. There's no sign of over/undersaturated colours, whereas skin tones are rendered realistically. It's little wonder then that Shaun of the Dead, Zombieland, and Star Trek Blu-rays appeared absolutely stunning. It's hard to go back to a regular LCD panel once you have witnessed something of this calibre.

The Last Hurrah
It's obvious that the Panasonic Viera TH-P50S60D Plasma TV delivers image quality that's hard to achieve with LED-Backlit LCD TVs costing many times as much. But being an entry level offering, it lacks anti-glare coating. This means it cannot be used in a room that isn't sufficiently darkened. Then again, this isn't the sort of TV that you'd use for watching Saas Bahu serials. It's meant to be treated as a home cinema screen instead. And that's a role it plays to perfection.

If you're concerned about Panasonic shutting down the production of plasma panels, you have an even cheaper Full HD plasma alternative from LG at hand. Thankfully, both LG and Samsung seem to be committed to manufacturing plasma TVs; especially since they have both released full-featured flagship plasma TVs in their 2013 TV range. As tragic as Panasonic's pull out from the plasma game is, I really hope it sells its patents to either LG or Samsung—much in the same way it bought Pioneer's plasma TV patents when the latter shut shop. Wishful thinking aside, for those who really appreciate good picture quality, this TV worth every paisa.

Features: 4/5
Design and Build Quality: 4.5/5
Performance: 4.5/5
Value For Money: 5/5
Mojo: 5/5

Overall Rating: 4.5/5