Review: BlackBerry 9720 - For Old Times' Sake | TechTree.com
Review: BlackBerry 9720 - For Old Times' Sake
For those looking for an old-school QWERTY business phone with good battery life.
Rating

3
/5
20th Nov 2013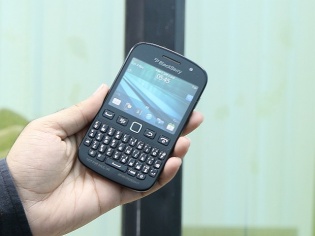 Pros:
Good-old QWERTY keypad; Offers both touchscreen and trackpad; Straghtforward UI; Long battery life.
Cons:
Dated OS 7.1 platform; Paltry internal storage; Back-panel feels cheap; Camera is disappointing; Lacks front-facing camera.
BlackBerry 9720
Street Price: Rs 15,000

The Z10 was meant to compete with the likes of iPhone and flagship droids. However, in the hostile high-end market, things didn't go BlackBerry's way. In the mid-range segment though, the company is now playing to its strength with a QWERTY touting BlackBerry 9720. The phone is a spiritual successor of the popular Curve 9320. Let's quickly find out if it's good enough to keep the affordable Android and Windows Phone devices at bay.
Why should you buy it:
1. It's a very good option if you're looking for a good-old QWERTY phone.
2. Apart from the trackpad, the phone also comes with a touchscreen. This means you get the best of both worlds.
3. The phone delivers a no non-sense user experience. True, there's no eye-candy, but it can get the work done.
4. Those looking for good battery life should consider this phones as it easily lasts for two days with normal use.
Why you shouldn't:
1. Ships with dated BB OS 7.1. That's quite disappointing considering that the manufacturer is actually focusing on BB 10 platform.
2. Those wanting a decent snapper on the go, should keep away from this one.
3. The internal storage of 512 MB is too low considering the phone's price tag.
4. The material and texture of the back-panel feels cheap.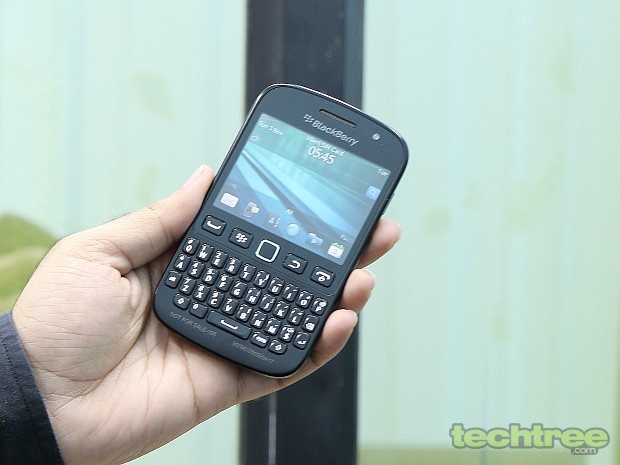 Design And Build
No prize for guessing that the BlackBerry 9720 looks much like the Curve 9320. But then, it's a standard BlackBerry design. The handset feels sturdy and fits quite well in hand. Conversely, the rubbery texture on its back-panel didn't adhere to our taste. It also felt a little cheap to touch.
BBM fans will be pleased to know that there's a dedicated BBM button on left side. The QWERTY keyboard as you'd expect from the Canadian manufacturer is top-notch. Looking at the draught of full-QWERTY phones at this price tag, you can even say that it's one of the best messenger-friendly phones in the market.
The 9720 sports a 2.8-inch IPS touchscreen with pixel dimensions of 480x360. The touch-response is very good. However, the colour reproduction isn't as good as you would expect from an IPS panel. The screen isn't really sharp for today's standards.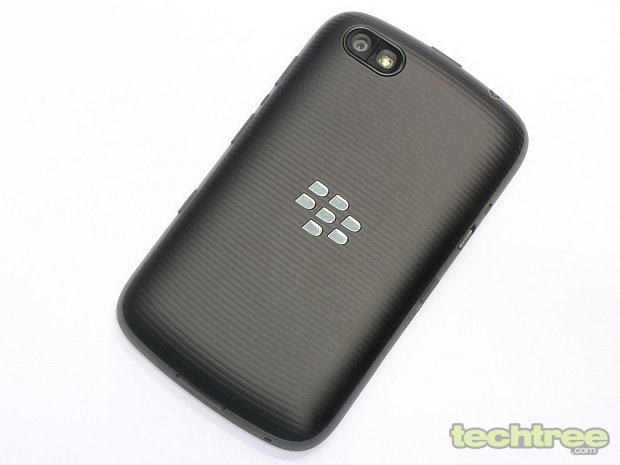 User Experience And Apps
This phone features an 806 MHz processor along with 512 MB of RAM. Apart from that you get a 5 megapixel camera, Wi-Fi, Bluetooth, 3G, 512 MB internal storage, and 1450 mAh battery. Front-facing camera is absent. Now these numbers aren't very encouraging, but BlackBerry has made sure that the phone doesn't lag. You can simply swipe up to access the app drawer and settings. Moreover, you also get an Android-esque notification bar. Multitasking is duly covered, and you can switch between apps with a long press of the [Menu] button.
Although it's a touch and type phone, BB has played safe by retaining the trackpad. All in all, the interface is pretty straight-forward, which won't disappoint its target audience.
The native apps such as BBM, browser, and email work fine. However, BIS (BlackBerry Internet Service) locked email-client is a big downer. We wish it was open for Wi-Fi as it is on BB10. What's more disappointing is that OS7's app catalogue is weaker than that of Symbian. And that's not at all surprising, considering BlackBerry is concentrating its efforts on its newer BB10 platform.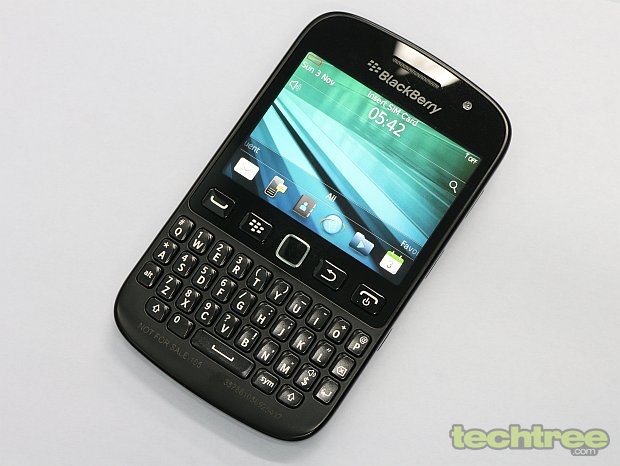 Multimedia
The 9320 offers surprisingly good sound quality. Besides that, there are plenty of equaliser settings to fiddle with. Watching movie on a 2.8" screen is really a stupid idea, but if you decide to do so, keep in mind that the phone supports MP4, DivX, XviD, and WMV videos up to 720p.
The onboard 5 MP fixed-focus camera is nothing worth writing home about. BlackBerry has never been known for its cameras, so take it as a token feature to fill up the check list.
Connectivity And Battery
Phone's reception was excellent throughout our testing period. The sound quality during the voice calls was loud and clear. Similarly, its Wi-Fi reception was spotless too.
The 1450 mAh battery's performance is very good. With normal use, it can easily last for over two days. That's good enough for business folks who travel a lot.

Verdict
The sturdy build and the iconic QWERTY keypad are the high-point of the 9720. On the other hand, now that BBM is available on Android and iOS platforms, there's one less reason for users to stick with the Canadian manufacturer. Furthermore, its BIS dependability, paltry internal storage, poor camera, and dated software are major deal breakers.
In short, for Rs 15,000, the phone isn't a major update over the relatively-cheaper 9320, save for the touchscreen. So unless you're too fond of touch interface, you can save a couple of thousand rupees with the 9320.

Features: 3/5
Design And Build Quality: 3/5
Performance: 3.5/5
Value For Money: 2.5/5
Mojo: 3/5
Overall Rating: 3/5

Specifications:
2.8" touch screen with 360x480 pixels.
806 MHz processor, 512 MB of RAM.
512 MB of internal storage, MicroSD card slot.
5 megapixel fixed-focus camera with LED flash.
3.5mm audio jack, FM Radio with RDS.
3G, Wi-Fi, Bluetooth 2.1, A-GPS.
1450 mAh battery.
BlackBerry OS 7.1.
TAGS: Mobile Phones, BlackBerry