Review: BlackBerry Z10 | TechTree.com
Review: BlackBerry Z10
BlackBerry slides into a new ion.
Rating

3.5
/5
21st May 2017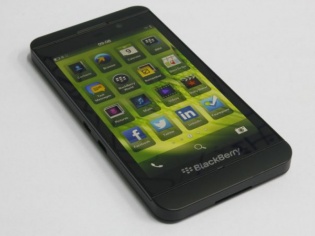 Pros:
Elegant Design; Sharp screen; Fluid gesture-based interface; Impressive multimedia performance; Surprisingly good sound quality. Great keypad; Micro-HDMI port.
Cons:
Limited apps currently; Maps are useless in India; Camera quality disappoints; Expensive.
BlackBerry Z10
Street Price: Rs 42,000

Most smartphone makers have unveiled their new flagships for the year, and BlackBerry is no different. For the Canadian company though, this is a big deal as they are not only experimenting with a new OS, but didn't have any major releases in the last year either. It has tried its luck with touchscreen devices in the past, but with a disastrous outcome more often than not. Will the Z10 change that and along with it the company's fortunes? Read on to find out.

Design And Build
Getting straght to the point, the Z10 is the best looking touchscreen device from the BlackBerry camp till date. The minimalistic design language gives it a modern and sophisticated look. Its curved corners and flat surface though seem inspired by the iPhone 5, but the handset has enough distinct features to stand on its own. It is easily operable with one hand, and the textured back-panel provides excellent grip. At 9 mm, this is the thinnest handset from the Canadian manufacturer. As you'd expect from BlackBerry, the Z10's construction is quite solid. Most part of the body is made of top-notch matte plastic and toughened glass.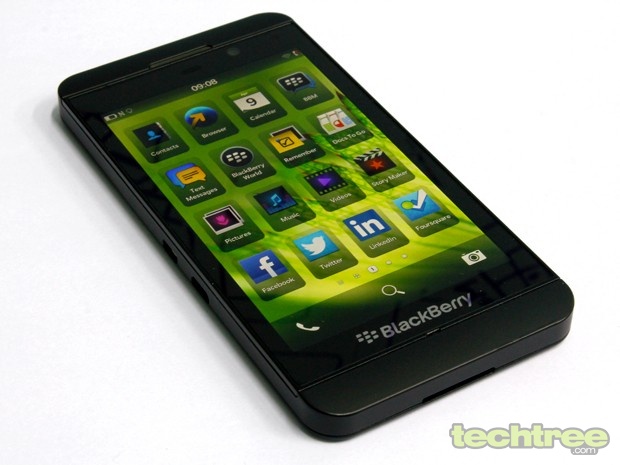 Similar to the Nokia N9, this handset doesn't sport any keys on the front. The UI navigation is based only on touch and gestures. The volume keys are present on the right side. Sandwiched between them is a Mute button that also triggers voice commands with a long press. On the other side are the micro-USB and micro-HDMI ports, while the Lock button sits at top. The back-panel is removable, which means you get expandable storage and replace the battery when necessary.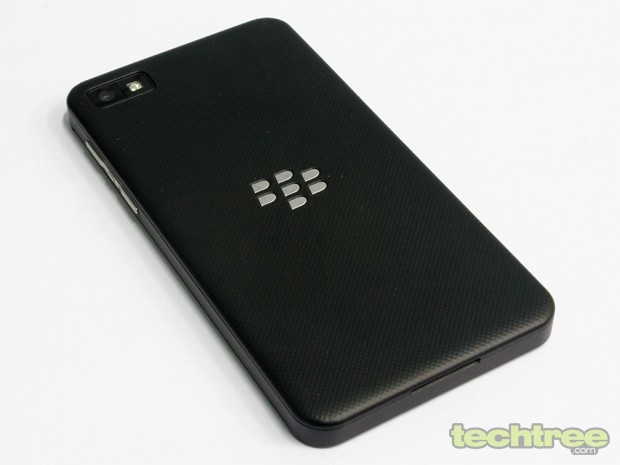 Overall, with Z10, BlackBerry has done a great job delivering a sleek device, and its build quality is good enough to justify its flagship status.


Display And Specs
The phone comes with an impressively sharp 4.2" IPS screen that offers pixel dimensions of 768x1280. The colours look natural and contrast is excellent. The screen's 15:9 aspect ratio is same as that of Nokia's Lumia 920. Unlike the previous generation of BB phones, the Z10 offers excellent touch response. The screen isn't protected by Corning Gorilla Glass, but it comes with a hardened display glass nonetheless.

The Z10 is the first BlackBerry device to be powered by a dual-core Snapdragon S4 chipset clocked at 1.5 GHz. There's 2 GB of RAM, 16 GB internal storage, and microSD card slot. Other key features inclue an 8 megapixel auto focus camera, Wi-Fi, Bluetooth, GPS, HDMI-port, and 1800 mAh battery. Detailed specs are at the end of this article.


UI And Apps
As mentioned earlier, the Z10 doesn't sport any physical key on the front. Therefore, the UI navigation is taken care off by the touch and gesture input. Most of the UI elements are heavily borrowed from Nokia's Meego platform. Similar to the N9, you can unlock the Z10 by simply swiping up from the bottom edge of the display. The home screen features three panes: Apps, Active Frames (task switcher), and BlackBerry Hub. This is again inspired by Nokia N9's Open Applications, Apps, and Events.
You can minimise an app and bring up the app switcher by swiping all the way up from the bottom edge of the display. Then, you can switch to any of the other active apps or swipe towards left and fire up a new app. Well yes, this is how the multitasking works on the Z10.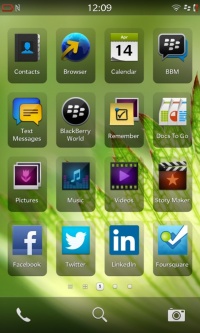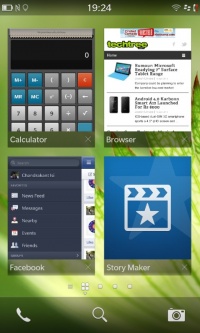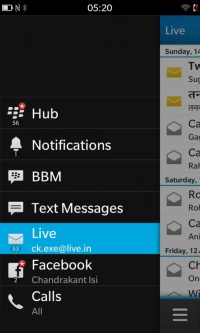 The Peek view is an interesting UI element, which can be accessed by swiping up and then moving your finger to the right. Here you can glance at the BlackBerry Hub, which collaborate your text, email, and social network updates. Continue sliding your finger to the right to enter the BB Hub, or slide your finger to the left and down to return to the app that you were using. Some of these gestures are contextual. For instance, when inside an app, the swipe down gestures brings up app specific settings, whereas on the homescreen, the same gesture gives access to quick toggles for Bluetooth, Wi-Fi, Alarm etc. Sound a little complicated, but doesn't take more than a day to get familiar with it.

In BB 10 platform, BlackBerry's attention to details and aesthetics is impressive. It has also thrown in enough amount of eye candy to wow its users. Especially, the transition effects have been done beautifully. Unlike Android, this platform seems well optimised to offer super-smooth performance on a dual-core processor. Even when multitasking with 5-6 apps, I didn't notice any lag.

Coming to default applications, the built-in browser looks much like its Windows Phone counterpart. It supports tabbed browsing, and also gives you an option to toggle Adobe Flash support. More importantly, the page rendering is blazing fast. Considering the BB phones are mainly targeted at office crowd, the Z10 comes pre-installed with Docs To Go. While the app gets the work done, it's nowhere near the Office Suite integration offered by Windows Phone platform. But if you think that is disappointing, then brace yourself for BlackBerry Maps. This app just does not display anything other than a blank screen. Yes, the company hasn't bothered to create maps for India yet!

Considering that BlackBerry has started afresh with BB 10 platform, the app count of 70,000 is quite good. However, a good chunk of apps are Android ports, and don't gel well with the phone's UI. This indeed is annoying, but I don't think that users should complain, after all, something is better than nothing. The repository houses plenty of popular apps including Skype, WhatsApp, and Angry Birds: Star Wars. As of this date, the only glaring omission is the hippie-favourite Instagram.

All in all, as far as the user interface is concerned, BlackBerry has done a good job. It's now up to the developers to strengthen this ecosystem.


Multimedia
The new music player's interface is easy to use and refreshing. The device's sound quality is superb when paired with a set of good aftermarket IEMs. The volume buttons also let you change the tracks with a long press. What's sorely missing here is an FM radio and equaliser settings. The Z10's video playback capabilities are good too. Full-HD videos in MP4, DivX, Xvid, and MKV formats worked without a hitch on this handset. Moreover, the micro-HDMI port is the icing on the cake. The cable is not bundled though.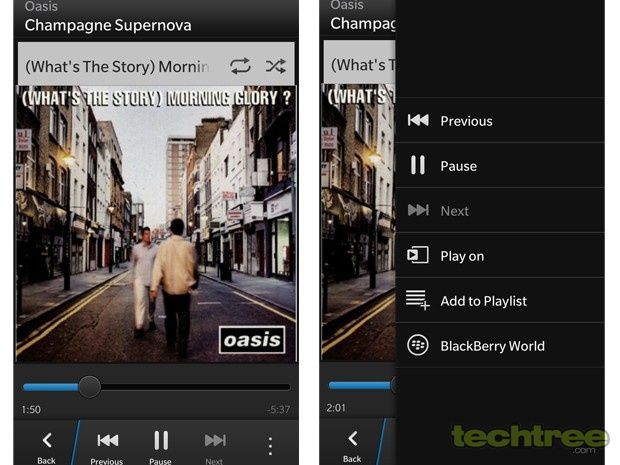 Camera
The BlackBerry Z10 comes with an 8 megapixel auto-focus camera with an LED flash to keep it company. There are usual features such as touch focus, burst mode, and geo-tagging. The photographs taken on a sunny day contain a decent amount of detail, but the colours look over-saturated. It gets worse in low-light photographs, where the noise levels go out of hand. Click here to view the untouched sample.

The camera comes with an interesting functionality called Time Shift. This feature takes multiple shots within seconds and then lets you choose the best shot. Moreover, you can also pick individual faces and tweak them to make sure that everyone's smiling. Well yes, that's exactly like the SmartShoot camera lens available on the Nokia Lumia handsets. BlackBerry has licenced this technology from the Scalado imaging software company, which was later acquired by Nokia, and hence the similarities.
Video recording is on par with any flagship phone out there in the market. It can shoot 1080p videos at 30 fps. The clips are saved in MP4 format, and offer smooth playback. All said and done, the camera performance is better than previous BB phones, but not quite comparable with its competitors including the iPhone 5 and Lumia 920.


Telephony And Messaging
Much like the WP's Messaging Hub, the BlackBerry Hub integrates all your messaging and social networking services at one place. From here, you can click and hold on any notification to bring up options for call back, reply, etc. With BB 10, BlackBerry has finally done away with the BIS dependability. This means you can now use all the messaging features on Wi-Fi or an existing 3G plan.

The on-screen QWERTY keypad is one of the best available on smartphones. It cleverly predicts the word you're typing and gives the suggestion between the keyboard rows (check out the screenshot below for better understanding). Another nice touch here is that swiping to the left while typing works as backspace. The popular BlackBerry Messenger service hasn't changed much, except for the addition of video calling with TeamViewer-like screen sharing feature. In terms of call quality, there was no reception or voice quality issue throughout testing.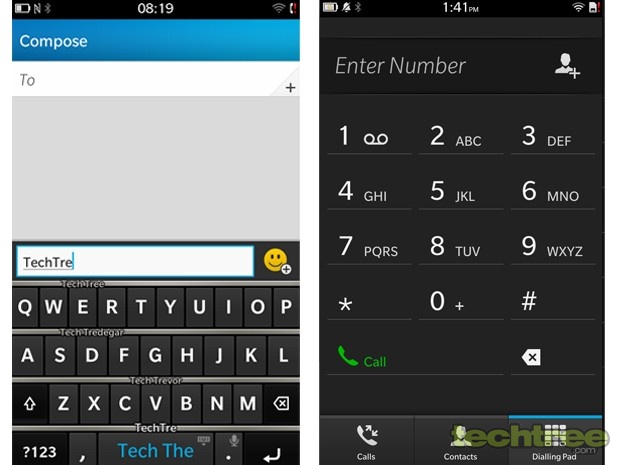 Verdict
The BlackBerry Z10 is sleek and sophisticated device with superb build quality. It has a lot of things going for it such as a sharp 4.2" screen, fluid gesture based UI, impressive multimedia performance, and a great keyboard. However, it's the price tag of Rs 43,000 that holds me back from whole-heartedly recommending it. Looking at the features it offers, I think the right price for this handset should have been around 35k. Having said that, if you're BlackBerry fan who can live without maps, then go for the Z10 — it's the best touchscreen device that the Canadian manufacturer has ever produced. Otherwise, the iPhone 5, Lumia 920, and HTC One are better buys.


Features: 3.5/5
Design And Build Quality: 4/5
Performance: 4/5
Value For Money: 2.5/5
Mojo: 4/5
Overall Rating: 3.5/5


Specifications:
4.2" IPS screen with 768x1280 pixels.
1.5 GHz dual-core Snapdragon S4 chipset, 2 GB of RAM.
Micro-SIM, 3.5 mm jack, HDMI-port, Micro-USB port.
Internal 16 GB storage, MicroSD card slot.
Wi-Fi, Bluetooth 4.0, NFC, GPS, lacks radio.
8 megapixel autofocus rear camera, 2 mp front-facing camera.
BlackBerry 10 OS.
Accelerometer, gyro, proximity, compass.
1800 mAh battery.
TAGS: Mobile Phones, Blackberry