Review: Sony Cybershot DSC-RX100 II | TechTree.com
Review: Sony Cybershot DSC-RX100 II
Sony's famed RX100 with 1" sensor gets an expensive successor.
Rating

3.5
/5
20th Sep 2013
Pros:
Handles low light shots well; 1" sensor gives low-noise shots at ISO 3200; Pocketable; Incredible amount of DoF at f1/1.8; Wi-Fi/NFC compliant.
Cons:
Optical zoom limited to 3.6x; Heavy; Steep learning curve; Expensive.
Sony Cyber-shot DSC-RX100 II
MRP: Rs 42,990

Sony broke away from the conventional 1/2.3" sensors to make way for a 1" sensor with its RX100 and earned rave reviews for its high-end point and shoot camera. That snapper came in packed with goodies to the brim, along with DSLR-like image quality, but in a compact form factor. Its successor, the RX100 Mark 2 promises to add more to the platter than the first version. At a premium of 8k on retail price, does it better the deal, or are the goodies just hogwash? Let's find out.
Aesthetics And Design
The RX100M2 looks exactly like the RX100 save for some interesting and noteworthy additions. Right at the top, you will find a horse-shoe attachment covered by a small piece of plastic to keep the dust off the crevices. Therefore enabling this camera to support additional accessories such as an external flash, an electronic view finder, or an external mic. There are two stereo speakers at either side of the shoe. The 3" LCD screen (with White Magic technology for better outdoor legibility) can be tilted to 180 degrees, which is a boon for low angle shots. However, it does seem a bit fragile at first and may not survive falls. It isn't a touch screen panel either, which is a shame given its steep pricing. Another issue that has been persistent with the original camera is the pop-up flash, which also seems flimsy to begin with, and there are no buttons to enable it: You will have to depend on the menus to get that going.
The camera has a glossy body with no obvious grips with can make it a bit uncomfortable to hold in the beginning. At 281 grams and with dimensions of 101.6 x 58.1 x 38.3 mm it isn't really light as its weight isn't as well divided as in case of larger cameras (Panasonic G6 or the Canon EOS 100D for instance). But it surely is pocket-able.
There are two rings that you can use to tweak setting — the control ring around the lens (which also helps for manual focus), and the dial at the back of the camera. It will take you a while to figure out which key does what as its not apparent at first. The camera boasts of F1.8 Carl Zeiss Vario-Sonnar T lens that gives you incredible depth of field. Apart from that it packs in Sony's home-brewed BIONZ image processing engine with the Exmor R (CMOS+BSI) sensor, which delivers well on low-light shots.
If you were expecting a super-zoomer this time around, Sony hasn't complied; you will have to make do with just 3.6x of optical. The camera is NFC/Wi-Fi compliant, more on that later. On the left is the USB port and the HDMI-out, the base houses the tripod screw, battery, and microSD card slot; the camera ships with a 4 GB card.
Overall a bulky, yet sturdy and well-built camera and very elegant to look at, as is expected from all Sony snappers. Detailed specs are listed at the end of the review.
User Interface
For those upgrading from an entry-level point and shoot, the RX100M2 poses a steep learning curve. Save for the shooting mode everything else is accessible from the Function and Menu keys. You can start right away with the iAuto, Auto, or Program modes, but getting such a feature-packed camera to run on auto modes is a criminal waste of resources. Also, if you plan to shoot in the iAuto mode with Fine image quality on, expect a heavy saturation, colour shifts, and sharpness.
That said, you can use the control ring at the back to tweak colour settings to an extent. While this is good enough for those looking to avoid post processing, those who enjoy the process can shoot in the RAW mode.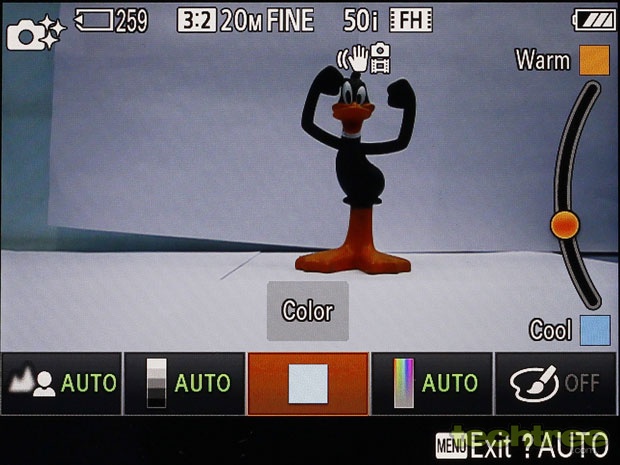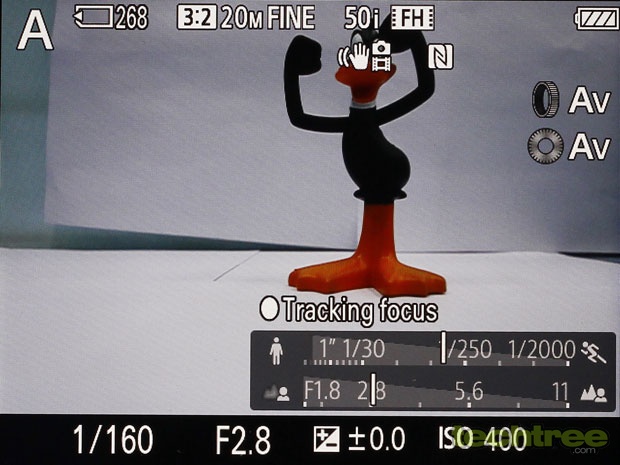 Apart from shooting modes, you can shoot in the scene mode, which includes High Sensitivity, Night Scene, Night Portrait Portrait, Landscape, Fireworks, Advanced Sports Shooting, Gourmet, Pet, Handheld Twilight, and Anti Motion Blur modes. Now understand that these set of options are different from the SCN mode on the dial, you will find these options on the menu instead.
All this can be very daunting for a new user; hopefully Sony will declutter and make its interface simpler. As is true for most new-age cameras, the Movie mode isn't on the scene dial, but it gets a dedicated button.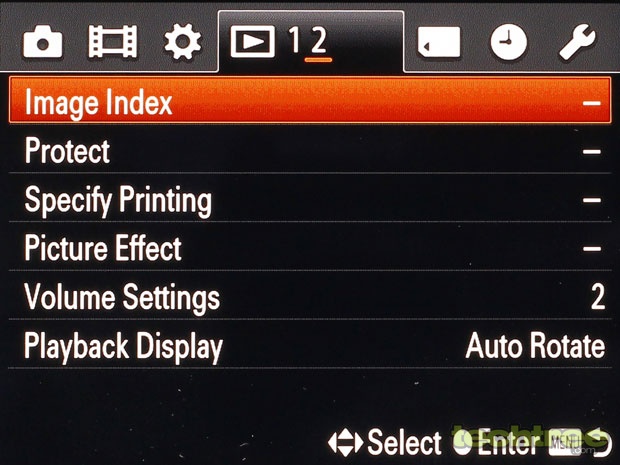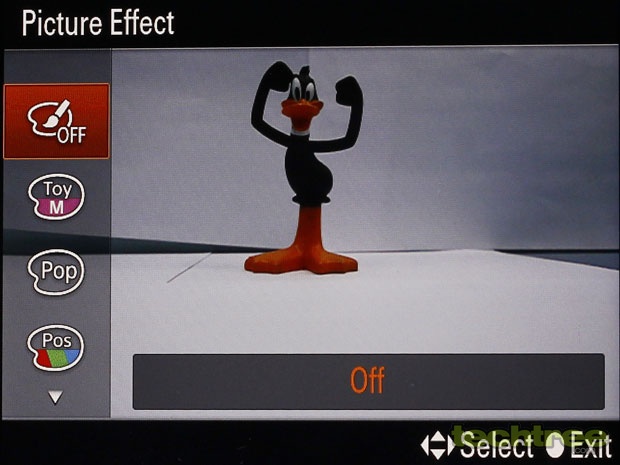 The camera supports manual focussing, and can detect up to 10 smiles with the smile shutter on. For the MR (memory recall) option to work, you need to create setting to that effect in the settings menu. You can take HDR shots, or create painting using Picture effects. The DRO setting help you add HDR-style exposure-value based effects on video captures.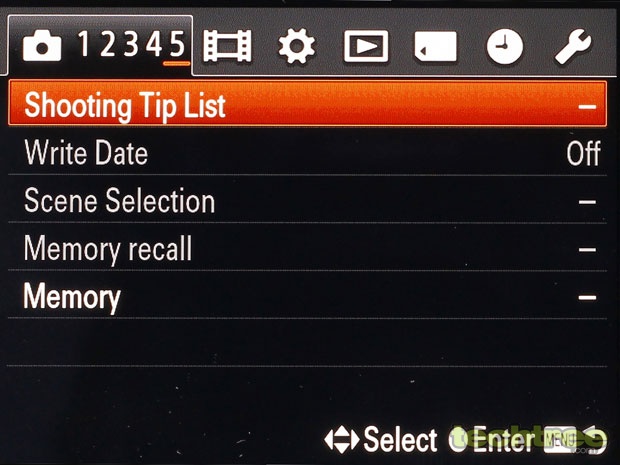 For easier usage, you can assign shortcuts to some of the button controls, including the ones marked DISP, FN, centre, left, right, and even the control ring at the back of the camera.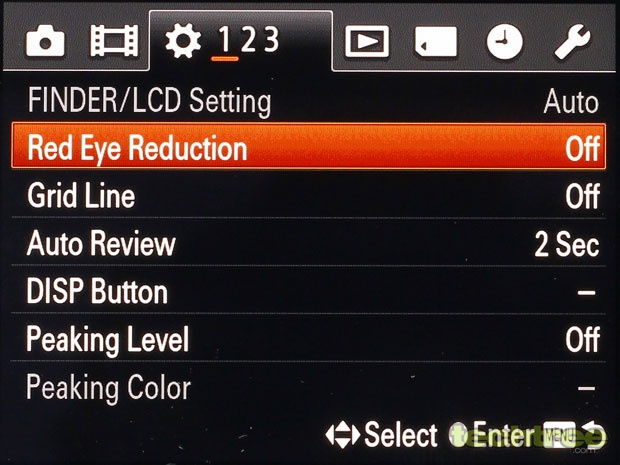 To transfer pictures and movies from the camera via your NFC/Wi-Fi enabled smartphone/tablet, first thing you need to do is connect the two devices. To do that, go to the Send to Smartphone option in the camera, follow the instructions on the screen. Before that make sure that you have the PlayMemories Mobile app installed. It is available for Android and iOS devices, and works quite well.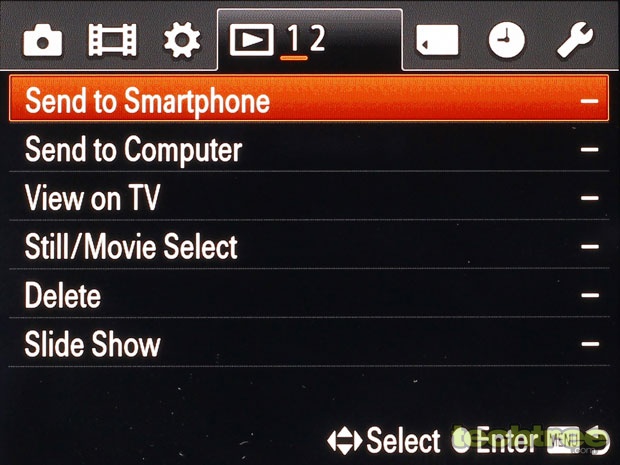 Performance
Apart from a range of white balance option, and ISO levels, the camera lets you add artificial effects on pictures. Thanks to the BSI sensor and larger sensor size, it manages to capture really low light shots well. However, expect visible amount of noise in such captures.
Unlike the 100D though, these picture effects are applied directly to the captured frame instead of like an add-on processed skin. Of these, the camera struggles a bit when using the colour effects option. Then again, some effects are very gimmicky and don't really add any real value.
There is a range of white balance levels to play around with, from the warm Flash to the cool florescent modes. Depending on the ambience, you can toggle around these to get near-actual colour reproduction.
In the ISO department, considering that it is a 1" sensor, it handles noise well up to ISO 1600. The noise levels are acceptable even at ISO 3200, but beyond that the grains are very visible, and there is a sharp drop in captured details.
Apart from the HDR painting effect, the camera captures bracketed tone-mapped HDRIs with exposure values as high as ±6.
The smilie shutter and wind reduction works just fine even in the video mode, save for some minor zoom sounds, which is a bit of a turn off. Otherwise the full HD videos run smoothly.
Verdict
The Sony Cyber-shot DSC-RX100 II is a fine point and shoot that can surely change people's perception of cameras. In fact it can serve as a very good pocket-able option for those who don't fancy lugging their DSLRs everywhere. Coupled with an Exmor R sensor and a 1" wide sensor opening, the snapper can handle light better than its predecessor, the DSC-RX100 (Rs 34,000). However, it poses a steep learning curve, which shouldn't be a deterrent.
That said, an almost 8K price gap between the two models is a bit too much. Although the newer model is a better camera, it doesn't warrant that much of a price rise; especially when its accessories are expensive too. So if you aren't too keen on night photography, the RX100 should suffice.
For those on a tighter budget, the Nikon 1 J1 Mirrorless camera at Rs 22,500 is a bargain. At a similar price point, the Nikon 1 V1 Mirrorless worth Rs 35,000 lets you change lenses.
Features: 3/5
Design and Build Quality: 3.5/5
Performance: 3.5/5
Value For Money: 3/5
Mojo: 4/5
Overall Rating: 3.5/5
Specifications:
3.6x Optical Zoom and 14x Digital Zoom.
Full HD Recording.
Exmor R CMOS Image Sensor.
3" Xtra Fine tiltable TFT LCD screen.
Carl Zeiss Vario-Sonnar T Lens; f/1.8 - f/4.9 Aperture.
1240 mAh battery.
BIONZ Image Processing Engine.
Wi-Fi/ NFC enabled.
Mechanical pop-up flash, multi-purpose horseshoe attachment.
TAGS: Cameras, Sony, Cyber-shot