Review: BlackBerry Torch 9860 | TechTree.com
Review: BlackBerry Torch 9860
An expensive fruit.
Rating

3
/5
16th Oct 2012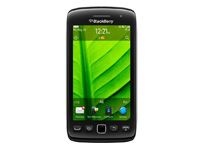 Pros:
Fresh UI; Great sound quality; Capable video player.
Cons:
Expensive; OS needs polishing; Limited number of apps; Display prone to scratches; BlackBerry Internet Service required; Limited operator availability.
BlackBerry Torch 9860
MRP: Rs 28,500
Street Price (As On 21-Nov-2011): Rs 28,000 (Saholic.com; Flipkart.com)


A BlackBerry without a QWERTY keypad sounds as weird as a Bollywood movie without a song. It seems like the 9860 wants to challenge touchscreen smartphones with its 3.7" display, powerful CPU, and a spanking new BlackBerry 7 OS. Is it good enough to stand a chance against the high-end Androids? More importantly, will the BB purist embrace this QWERTY-less mobile?


Design And Build Quality
The retail box comes with a phone, USB cable, charger, and earphones. No complimentary memory card, which is odd considering the internal storage is just 2.5 GB. The device measures 4.7" (l) x 2.4" (w) x 0.5" (d), and weighs 135 grammes. It looks slightly bigger than other 3.7" mobiles due to its large bezel. The front is all glossy, which I personally don't find classy for a premium device. On the other hand though, the metallic back with its rubberised grip looks impressive.

Five physical buttons are present below the screen: Call, Hang Up, Menu, Back, and an optical trackpad. These buttons are well-spaced, making sure you won't end up hitting the wrong keys.


The phone is powered by a 1.2 GHz CPU and has 768 MB of RAM. Other features include Wi-Fi, Bluetooth, GPS, a 5 mp camera, 3.5 mm jack, microSD card slot, a 1230 mAh battery, and a bunch of sensors. The 3.7" LED-lit touchscreen has pixel dimensions of 800x480. The display is bright and produces crisp images. Viewing angles are also good, but a colour shift is noticeable at extreme inclinations. While the lack of Gorilla Glass is a downer, what's worse is that the screen is prone to scratches.


UI And Applications
The new BlackBerry OS has brought in colourful and touch-friendly icons. It's a welcome change, but the icons look slightly tacky and may not please the corporate types. On the other hand, the transparent menu backgrounds look decent. Instead of multiple home screens, BB7 OS features a drawer that reveals apps and settings when slid upwards.


The status area at the top of the screen provides quick access to the cellular, Wi-Fi, and Bluetooth settings. Below that is a notification bar, which brings up a full-fledged notifications screen when touched. Multitasking support is present and you can switch between apps with a long press of the Menu button.

The notification screen is on the left, while the status bar can be seen on the right.
Although you can navigate using just the touchscreen, the trackpad provides a functional alternative. It is indeed useful where precision matters, especially while editing Word files in the Documents To Go app. Overall, the UI is fast, but I experienced random freezes occasionally. Moreover, the system became sluggish quite a few times while browsing the app store. Let's hope RIM will iron out these bugs soon.

The App World is where you can get apps for your BlackBerry. Unfortunately, the useful apps are paid, and their pricing isn't friendly either. For example, the Wi-Fi hotspot app called Tether is priced at an atrocious Rs 1400! Thankfully, you also have free apps such as Zombie Attack (an Angry Birds rip-off), and Fruits and Ninja (a Fruit Ninja clone). The games are strictly ok, but surprisingly, the 1.2 GHz CPU failed to run them smoothly.

The BlackBerry App World and its costly offerings.
The phone has a GPS receiver, but constantly requires an internet connection. Navigation is taken care of by BlackBerry Maps, but those looking for voice guidance will be disappointed. The web browser is snappy and makes good use of the CPU. It supports all the features of modern-day browsers, such as pinch-to-zoom, text reflow, etc. However, Flash-based sites are a no-go.


Multimedia
The music player's interface borrows heavily from the iPhone 4's Cover Flow. However, I'm not complaining as it makes for good eye candy. Equaliser presets are present, and the sound quality though the earphones is great. The video player supports MP4, DivX, XviD, and WMV videos up to 720p. Strangely, it failed to play most 720p WMV videos, probably due to some codec issue. Overall though, the multimedia performance is great when compared to previous BlackBerrys.

The onboard 5 mp camera is accompanied by a single LED flash. It produces good images in daylight, correctly reproducing natural colours and a good amount of detail. However, the low-light performance is unimpressive, with the resultant images containing a lot of noise.

Camera sample.
The device is also capable of 720p video recording at 30 fps. The video playback is mostly smooth, but clips can only be saved in the 3GP format.
Video sample.
Telephony And Messaging
The 9860 lets you sort contacts into Business and Personal groups, which can be very useful. For example, if you leave a job, you can get rid of all your colleagues simply by clearing the Business contacts. The physical Call and Hang Up buttons make the phone experience better. More importantly, there were no reception or voice quality issues throughout the testing. BlackBerrys are renowned for their messaging. Little wonder then that the 9860 supports everything from SMSes to IMs. The virtual keyboard is not as accurate in portrait mode, but its landscape version is good. Even so, the experience is nowhere near BB's good old physical QWERTY keypad.

A major drawback here is the device's dependability on the BlackBerry Internet Service. The phone doesn't allow you to set up an email account without subscribing to BB's services. What makes things worse is that they're available with only a limited number of telecom providers. For example, my operator, Loop Mobile, does not offer this facility, rendering the smartphone mostly useless. I agree that RIM offers superior security, but not allowing users to utilise their Wi-Fi and existing internet plans to set up a mailbox is totally unacceptable. The only saving grace is BlackBerry Messenger, which works with any internet plan.


Battery And Verdict
The 1320 mAh battery is good enough to keep the device on from 9 am to 11 pm under normal use. With heavy use, it powers the device for roughly 8 hours and 30 minutes before running out of juice.

The 9860 offers a proper touchscreen experience, thanks to the new BlackBerry 7 OS. To justify the product's price tag, RIM has incorporated a 1.2 GHz CPU and a decent screen, leading to good multimedia performance. On the other hand, the OS has a few bugs, the phone lacks scratch-resistant glass, and is heavily dependent on the BlackBerry Internet Service. All things considered, the phone is overpriced at Rs 27,500. Inevitably, its pricing puts it up against merciless droids such as the GALAXY S II and HTC Sensation. We all know how that will end.


Features: 3/5
Design And Build Quality: 3.5/5
Performance: 3.5/5
Value For Money: 2.5/5
Mojo: 3/5

Overall Rating: 3/5
TAGS: Mobile Phones, BlackBerry, ck