Review: Corsair Vengeance 1500 Dolby 7.1 USB Gaming Headset
An otherwise competent headset that suffers from weak bass and an uncomfortably tight grip.
Rating

3.5
/5
04th Sep 2012
Pros:
Great build quality; Excellent positional audio; Decent audio performance; Useful software.
Cons:
Bass lacks punch; Headband clamp can be too tight for some.
Corsair Vengeance 1500 Dolby 7.1 USB Gaming Headset
MRP: Rs 5300 (Store Locator)
Street Price (As On 4-Sep-2012): Rs 4500 (PrimeABGB.com)

Corsair is a well-known name in the field of memory products and power supplies. However, its gaming headset range is also expanding, with a variety of options available. The Corsair Vengeance 1500 Dolby 7.1 USB Gaming Headset is a wired pair of headphones that support virtual surround sound, with a mic attached as well. As the name says, it has a USB sound card that plugs into any computer and starts working almost immediately, without the need to install drivers. Specifications-wise, it's similar to the company's HS1 headset, albeit with a much better appearance. Let's take a look at how it fares in the review.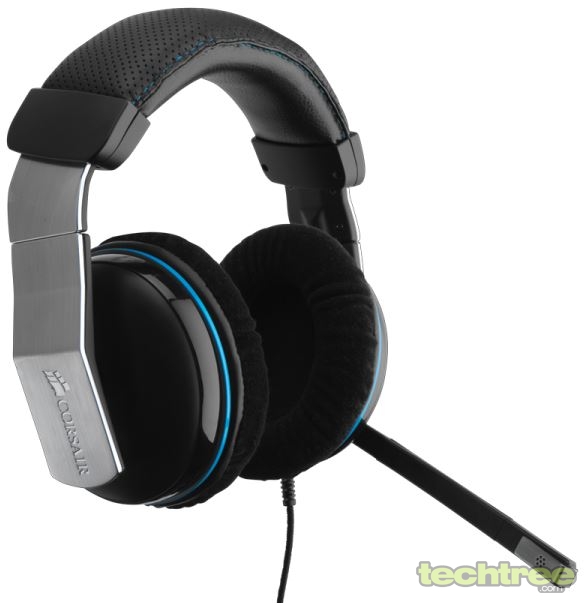 Design And Features
The Vengeance 1500 features closed-back circumaural black plastic cans with blue rims. They sport a memory foam cushion that wraps around your ears without actually touching them, producing a good seal that effectively reduces external noise. The blockage is further reinforced by a plastic cushioned headband, which is a little stiff and clamps down hard. The band is attached to the cans via adjustable, notched aluminium strips with a brushed surface finish bearing the company logo. You can thus change the length of the band to fit different head sizes, and even remember your specific setting by using the markings provided on the adjuster. The only complaint I have is that the headband clamps hard and can become uncomfortable after just a few minutes of usage, especially on the area just below the ears. I asked a few of my colleagues to try it on for some time, and they had the same issue as well. However, you tend to get used to it after a while, which is not necessarily a good thing.
The earcups are joined to the headband through a hinge that allows them to tilt up or down. Furthermore, the aluminium stalk itself has a hinge that allows the entire cans along with the band to turn inwards or out. All this goes to make the headphones fit well, regardless of your head's shape. The microphone stalk is hinged to the left earcup at one end and made of stiff plastic. It uses a notched mechanism with multiple positions to lock itself into a comfortable angle, and can be rotated all the way up to the headband so that it stays out of the way when you are not using it. The mic supports noise cancellation, so your voice is all that the other party will hear rather than the fan, AC, or your dog barking away to glory. The entire unit is attached to a really long 3-metre cable with a braided cover that keeps it from getting entangled. All in all, the overall construction is quite rugged and is built to last. The quality of components is excellent, and there's nothing flimsy to be found.

The Vengeance 1500 does not have a 3.5 mm audio jack as it comes with a built-in USB sound card that automatically installs the driver immediately after you plug it into the USB port. I tested the headphones on three PCs with Windows XP, Windows 7, and Mac OS 10.7. In each case, the device was ready to use in just a few seconds. In Windows, the process is so quick that the next time you plug the headphones into the same computer, the acknowledgement sound of the USB device being plugged in comes directly through the headphones. For the Mac though, I had to enter the system's Sound settings menu and manually change the default sound device. A trivial issue, since no one plays games on the Mac anyway. The advantage of this setup is that you can take the cans along to a cybercafé, friend's place, or tournament without having to worry about the PC's configuration or even bother with any drivers.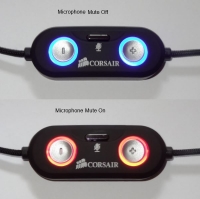 A controller, which also houses the sound card, is present a short way down the cable and has the volume adjuster along with a button to mute the mic. The volume buttons light up blue when the plugged into a USB port and flash red when the mic is muted. If the Corsair drivers have been installed, the light stays red instead of flashing. While the controller itself works well, its position is a bit annoying since it dangles close to the waist when sitting. Considering how long the cable is anyway, it would have been a better idea to move the controller a foot or so down so that it could rest on the table or desk instead.
To access the advanced control settings, you must install the latest drivers, which provides you with an interface called Corsair USB Headset Control Panel. It allows you to make several adjustments — you can also fine tune the audio using the 10-band equaliser, use presets for FPSes, MMORPGs, and other game genres, or even create a custom profile. You can choose the audio processing level either to Bypass (no processing) or Dolby Headphone, as well as select a room size for reverb effects. You can also switch to a 7.1 Virtual Speaker Shifter mode that attempts to recreate the directional audio effect of eight speakers using just two physical drivers.

Performance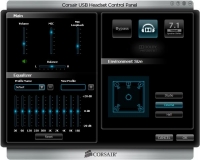 The 50 mm drivers are good at handling most of the aural spectrum, although the bass is not as strong as one would expect. The treble and mids are good though, which is what you really need in a gaming headset to be able to hear faint sounds such as enemy footsteps. The positional audio performance is pretty accurate, which can prove to be your secret weapon when looking for opponents lurking in dark environments. The virtual 7.1-channel speaker setup provides a fairly believable experience. Overall, the performance is good for gaming, but not so much for music.
The microphone's noise cancelling feature works very well, as the other party could hear me loud and clear during VOIP chat. Of course, it will work the same when used for in-game communication with your teammates as well.

Verdict
The Corsair Vengeance 1500 is a great performer while playing games, thanks to its excellent positional audio. However, the bass is weak, making it unsuitable for music. Moreover, the headband clamps down too hard, proving inconvenient to use over an extended period, and possibly even resulting in a mild headache, depending on how sensitive your head is. This puts a question mark on how gamers will be able to endure the discomfort through a gaming session. On the other hand, seeing how the headphone's target audience (hardcore gamers) is frequently hospitalized after playing non-stop for days on end, a slightly tight headband is going to be brushed aside as a triviality.

At its current pricing, this headset is a decent buy for gaming enthusiasts with thick skulls (and there's definitely a lot of them around) who like to take their own headphones to LAN parties. Alternatively, you can check out a couple of other options in this gaming headphone grudge match. Refer to the gallery below for more product images.

Features: 4/5
Design And Build Quality: 4/5
Performance: 3/5
Value For Money: 3.5/5
Mojo: 3/5
Overall Rating: 3.5/5
TAGS: Headphones, Gaming, Corsair, Jayesh