Review: COWON Z2 Plenue (8 GB)
Android goes audiophile.
Rating

4
/5
27th Jul 2012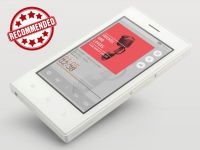 Pros:
Brilliant AMOLED display; Excellent sound quality; Gorgeous UI; Plays pretty much every file format; HDMI-Out works well; Handles heavy 1080p files exceptionally well.
Cons:
Expensive; Doesn't support Google Play; Old firmware is unstable; Laggy Interface; Tiny on-screen keyboard.
COWON Z2 Plenue (8 GB)
MRP: Rs 19,750 (COWONIndia.in)
Street Price (As On 26-Jul-2012): Rs 18,500 (BuyThePrice.com); Rs 19,000 (Flipkart.com)
Practically everyone and their uncle listens to music, and they really don't care or have any idea of how it sounds as long as it's presented on a dainty iPod platter. However, there a few who actually actually love music enough to care about how it is delivered to them. These select few won't be caught dead with anything but FLAC or APE files loaded in a quality PMP (Portable Media Player), wired to audiophile-grade IEMs (In-Ear Monitors). These are the kind of people who believe iPods are beautifully crafted, unibody aluminium paperweights — the sort of geeks who love their Androids as much as their vinyl players.
COWON — a favourite amongst audiophiles — is the go-to brand for these discerning enthusiasts. The Korean PMP expert has tried to give the Android platform audiophile credentials in the past with the D3 Plenue, which had garnered mixed reactions due to teething troubles. The Z2 Plenue is an attempt to iron out those flaws and create a PMP that combines high-quality audio \ video hardware with the freedom of Android.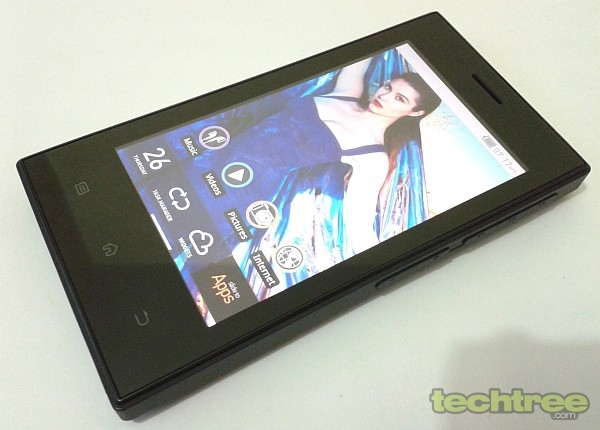 The COWON Z2 Plenue looks stunning.

A Classy, Minimalist Design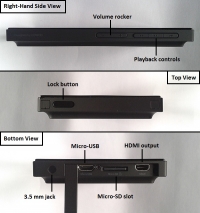 While the D3 Plenue looked too similar to the COWON J3, the Z2 is a complete redesign in every respect. The entire device embodies the spirit of minimalism in its construction as well as UI design. The body may be fashioned out of plastic, but it's the soft, rubberised, non-shiny kind that's surprisingly resistant to scratches. It feels so solidly built and good to touch that this is the rare instance where I don't think a product would have been better off with a metal body. The only annoyance is that its sharp edges occasionally poke into your palm. The design is angular and understated, with a button placement that's familiar to COWON loyalists. At the bottom, you have a 3.5 mm jack, flanked by a microSD slot and ports for micro-USB and HDMI output — all hidden behind a flap that cleverly doubles up as a kickstand.
Everyone who saw the Z2 confused it with a smartphone due to its tell-tale speaker grille at the top, which has been placed thus so that it can be used like a phone during VOIP (Skype) calls. Most of the fascia is occupied by the crisp and lively 3.7" AMOLED screen (480x800) that doesn't show much colour shift even at wide viewing angles despite its PenTile matrix configuration. The display is protected by what's seems to be Gorilla Glass, or a panel that's just as scratch-resistant. At the bottom are your typical capacitive buttons, laid out in a row. The Menu, Home, and Back buttons are capable of haptic (vibrating) response. While they aren't illuminated, this shouldn't be a problem once you get used to their orientation.
The retail package ships with a wall charger, a long micro-USB cable, and a high-quality HDMI cable. The bundled earbuds sound surprisingly good by the standards of stock earphones.
Customised To Perfection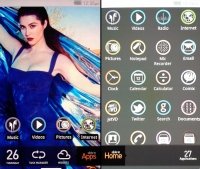 The Z2 Plenue comes preloaded with an Android 2.3.5 (Gingerbread) installation that's been customised to perfection. The minimalist design trickles down to the UI, which is the best Android implementation I have seen by far. For someone who finds HTC's Sense too gaudy and Samsung's redesigns just plain cheap, the Plenue's UI gets it right with its pastel shades, tasteful icons, attractive widgets, and classy app list, complemented well by pleasing transparency and transition effects. While it sports the same Gingerbread home screen configuration, little details — such as a clever lock screen that provides quick media player access and a customisable, multi-layered launch bar that houses frequently-used apps and shortcuts — make all the difference.
On the flip side, the interface exhibits a slight lag — which is par for the course for most Androids in this price range. Having said that, the Z2's touch response is considerably more fluid when compared to the laggy UI of its non-Android cousin, the J3. The audio and video players have been radically changed too, and offer loads of customisability and features such as sound enhancements, audio presets, along with myriad options to set subtitles, aspect ratio, playback speed, and more. Just make sure you download the latest firmware update, which adds a file manager, improves stability (since the stock firmware crashes often), and fixes a major aliasing issue with the image viewer.
COWON still isn't completely certified by Google, so the Z2 doesn't have access to the Google Play store or the search giant's official apps. Before you throw a fit, you should know that you can still side-load Android apps by copying them to the device's APK folder. Furthermore, Facebook, Twitter, and Gmail support is incorporated by COWON through its own apps. Even so, if you absolutely cannot do without the capability to purchase apps through the Google Play store, you can enable it by rooting the device using this guide. The PMP can connect to the internet through Wi-Fi, but 3G isn't supported. While the browser is the usual Android fare, it's sadly marred by the tiny on-screen keyboard.
Performance: Looks Good...

The Z2 Plenue is powered by a last-generation 1 GHz ARM Cortex A8 processor and a 320 MHz Mali 3D GPU, so don't expect it to play the latest 3D mobile games with fluid framerates. However, popular 2D and quasi-3D games, such as the entire Angry Birds roster and Fruit Ninja, run without dropping a frame.
The real ace up the Z2's sleeve though is its 800 MHz VPU (Video Processing Unit) that provides phenomenal performance even with very high bitrate 1080p video files. The PMP plays any video and audio format you can throw at it with zero dropped frames, thanks to the VPU's hardware decoding capability. In fact, it seeks through heavy 1080p video files better than most desktops.
The AMOLED screen looks downright gorgeous, with vivid colours, great contrast, and an excellent response time. Although it isn't meant to be a dedicated video player (the COWON A5 Plenue is designed for that), it's still a competent alternative, as long as you don't mind putting up with a relatively small 3.7" screen. Even this limitation can be overcome through its HDMI output, which works quite well and is great for hosting an impromptu movie screening at a friend's house. The 8 GB variant may not have much in terms of native storage, but its microSD card slot lets you add another 32 GB.
...Sounds Even Better!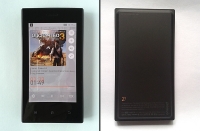 The real trump card of the Z2 though is its audio playback. Once I had loaded it with my test FLAC and APE files, I was blown away by its fidelity. Even the really good PMPs cannot match the warmth, bass response, and soundstage of my Audinst HUD-mx1 DAC + headphone amplifier, especially when paired with larger headphones such as the Alessandro-Grado MS1i. The Z2, however, managed to power the Grado directly with ease. The quality of highs, vocals, and its ability to go infrasonic is simply unparalleled by competing PMPs. With a performance of this calibre, it's hard for someone like me to fathom why anyone would choose an iPod over this.
Although I personally like to keep my EQ flat, equaliser hounds will be overjoyed at the inclusion of 40 presets, in addition to four additional user-customisable ones. The JetEffect 5 engine also includes popular BBE+ audio effects, with 9 reverb modes and stereo enhancement. However, the lag of nearly a second between audio playback commands and their execution is a chink in the Z2's armour. If you can look past that, this gadget is pretty much perfect as a PMP.
The battery life varied wildly between 12 hours for very heavy (80 MB per song) FLAC \ APE files, to 18 hours for 320 kbps MP3 files. Video playback lasted for 7 hours with high bitrate 1080p video content. These figures may not be impressive considering the Z2's a PMP, but not bad at all for an Android device. It's a good thing then, that the battery can be recharged fully within three hours by the wall charger.
A Competent Android All-Rounder
The Z2 Plenue is a refined avatar of the D3 Plenue, in a beautifully crafted shell. Its audio fidelity is unmatched by all but the most expensive and obscure audiophile-grade PMPs. The problem is, its price tag of Rs 18,500 for the 8 GB version does bring it within the range of audiophile alternatives, such as the HiFiMan HM-602 PMP.
Having said that, the Z2 does include a classy Gingerbread customisation, a wealth of apps, internet connectivity, and the platform's open-source goodness. Let's not forget that it provides a very competent video playback experience as well. The verdict is clear: if you're an audiophile looking for a good, all-round, Android-based PMP, look no further.
Features: 4.5/5
Design And Build Quality: 4.5/5
Performance: 4/5
Value For Money: 3.5/5
Mojo: 4/5
Overall Rating: 4/5
TAGS: Media Players, Android, COWON, Nachiket