First On TechTree: Review — Zync Z999 Plus
An Android tablet that packs in more bugs than features.
Rating

2.5
/5
14th Jan 2013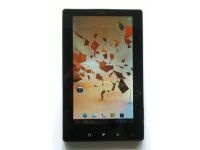 Pros:
Full phone functionality; 3G support; 1080p video playback; HDMI-Out.
Cons:
Buggy software implementation; Terrible camera; Lacklustre display.
Zync Z999 Plus
MRP: Rs 12,000
Street Price (As On 10-Jul-2012): Rs 11,000 (HomeShop18.com; Snapdeal.com); Rs 11,500 (BuyThePrice.com)


Zync's latest entrant, the Z999 Plus, comes with a 1.5 GHz CPU with 512 MB of RAM. Similar to most entry-level tablets, it offers Android 4.0 (Ice Cream Sandwich). What makes it stand out though, is its GSM calling functionality. This additional feature, however, takes the tablet's price beyond the Rs 10,000 mark. Let's find out if the Z999 Plus can justify its cost.


Design And Build Quality
The retail package includes the tablet, charger, USB cable, earphones, warranty card, and a pouch. The slate measures 7.6" (l) x 4.8" (w) x 0.5" (12 mm) (d), and weighs 380 grammes. Its front is covered by glass, while the body is made of matte plastic. The slate's design has been inspired by Sony's Xperia handsets. While it doesn't look as classy as Sony's phones, its construction is nevertheless pretty solid. Unlike most entry-level tablets, this one doesn't make a creaking sound when pressed. Overall, Zync has done a good job in the build quality department.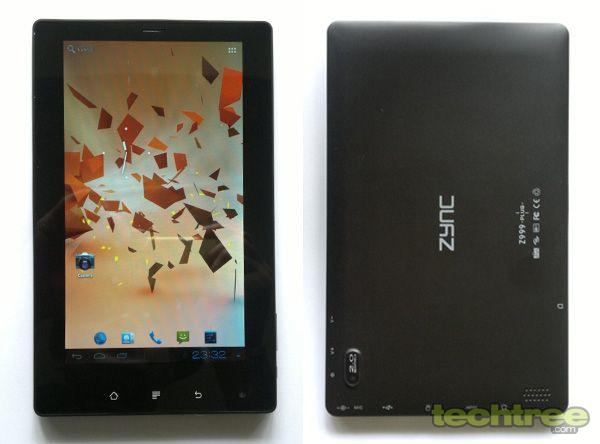 The device's 7" capacitive, multi-touch screen has pixel dimensions of 800x480. The display is bright, but its colour reproduction is mediocre. Also, due to the reflective nature of the panel, it becomes almost useless under direct sunlight. Although the display isn't bad, it's just not good enough considering the tablet's price.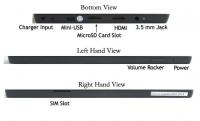 The slate is powered by a 1.5 GHz CPU, coupled with a Mali 400 GPU. Other specs include:
512 MB of DDR3 RAM, 8 GB of internal storage, and a microSD card slot.
2 mp rear and front VGA camera.
Wi-Fi, Bluetooth, 3G, HDMI-Out, mini-USB 2.0 port, and 3.5 mm jack.
4200 mAh Lithium-ion polymer battery.

UI And Performance

The tablet runs on Android 4.0 (Ice Cream Sandwich), with official access to Google's Play Store. Sadly, the user experience is spoiled by the horrid software implementation. It works fine for hours, then suddenly becomes sluggish without warning. It feels as if this gadget alternates between normal and sluggish modes at will. Also, on many occasions, the screen displayed corrupted graphics after idling for 30 minutes or so. Check out the gallery at the bottom for screenshots of this defect.

The device's front-facing VGA camera and mic let you make video calls using fring and Skype. In addition to Wi-Fi, the Z999 Plus also supports 3G connectivity. Moreover, you'll be glad to know that it even offers GSM calling functionality, so you can use it as a regular mobile phone. However, this feature too is marred by bugs, as I frequently experienced reboots while making a call. Overall, every positive aspect of this feature-packed tablet is negated by its buggy software.


Multimedia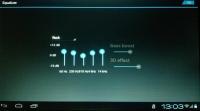 I hate to repeat this line in nearly every tablet review, but the bundled earphones are really bad. Thankfully, the sound quality is good when paired with decent earphones. The onboard speaker is loud, and Zync has duly put in equaliser settings. The Z999 Plus has no problems playing MP4 and AVI videos up to 1080p. Additionally, the tablet's HDMI-Out allows you to hook it up to HDTVs.

Although the rear camera is claimed to be 2 mp with autofocus, its quality is as bad as a VGA camera. Forget its low-light performance, the snapper can't take a decent shot even in good lighting conditions. The camera also supports a video recording mode, and the resulting clips are saved in the MP4 format. As expected, the video quality is terrible.


Battery And Verdict
The 4100 mAh Lithium polymer battery can keep the device powered on for more than 10 hours. With heavy use though, it gets reduced to 5 hours. All in all, the performance is good for an Android tablet.

For around Rs 12,000, the Z999 Plus offers a good number of features, such as an HDMI port, 1080p video playback, and good sound quality. More importantly, it includes 3G connectivity and GSM phone calls. While it could have got away with minor annoyances such as the lacklustre screen, its unstable software is a deal-breaker. Therefore, if you're ready to spend over Rs 10,000 on a tablet, go for the BlackBerry PlayBook 16 GB, which is currently available for Rs 14,000.


Features: 4/5
Design And Build Quality: 3.5/5
Performance: 2/5
Value For Money: 2/5
Mojo: 2/5

Overall Rating: 2.5/5