Review: Nikon COOLPIX P510 | TechTree.com
Review: Nikon COOLPIX P510
Overall, a good DSLR wannabe, but falters at maintaining focus well when using zoom with video.
Rating

3.5
/5
02nd Jun 2012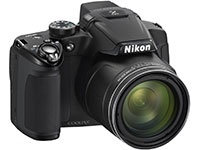 Pros:
Good colour reproduction and image quality; 1080p video recording; Electronic view finder; 42x optical zoom; Rugged build; Good image stabilization for still photography; Auto-bracketing.
Cons:
Noise at ISO 400 and higher; Focusing issues for distant objects while zooming; GPS has random problems locking to coordinates.
Nikon COOLPIX P510
MRP: Rs 24,000
Street Price (As On 01-June-2012): Rs 21,900 (Tradus.in); Rs 23,200 (Flipkart.com); Rs 23,500 (BuyThePrice.com)
DSLRs are always an object of aspiration and desire, but the prohibitive cost becomes a major deterrent. To address this issue, camera manufacturers have attempted to bring the best of both worlds – relatively affordable price and certain features of high-end digital cameras, making it an important camera segment in today's market. Nikon has the COOLPIX P510 for this segment. Sporting looks very similar to its DSLR range, this camera is an upgraded version of the P500, with a higher optical zoom of 42x from as compared to the 36x of the latter, a 16 MP BSI CMOS sensor in place of 12 MP, a GPS receiver, and 3D Photography mode, along with a few other changes. Is it really a worthy upgrade? Let us find out.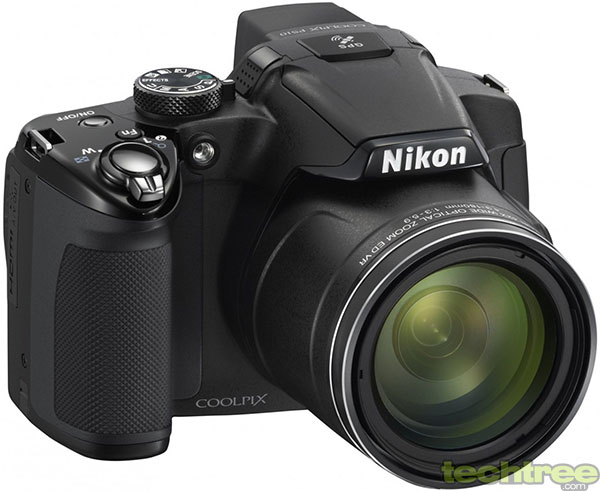 Bundle
Nikon COOLPIX P510
Lens cover
Neck strap
Data cable
A/V cable
Rechargeable Li-ion battery EN-EL5
Battery charger
Software disc
User manual
Design And Construction
The Nikon COOLPIX P510 sports a design similar to many of Nikon's higher end DSLR cameras, and has the similar ergonomics as well. The body is bulky and feels solid to hold. Built for the right-handed people as are most digicams, there is a rubber grip to hold the camera. It is large enough to comfortably hold in your hand. There is space on the lens barrel to hold with your left hand to stabilize the camera. A zoom rocker is present on this barrel and can be accessed by your left hand. The usefulness of this rocker is that it can be configured to adjust manual focus for better control than through the control dial. Though lighter than a few of its competitors, the camera is not really light at 494 grams. Yet it does not feel too heavy either, possibly because of its superior ergonomics. The weight is actually useful as it provides some stability for handheld shooting. There are eyelets on either side to attach a neck strap, and of course a neck strap is also provided with the camera.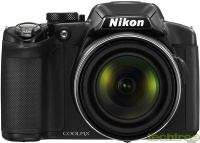 The lens used for this camera, is the Nikkor wide angle 4.3-180 mm, which is equivalent to a focal length of 24 to 1000 mm in the 35mm format. The lens actually consists of 14 elements in 10 groups, and all of them are connected in a well-oiled mechanism for zoom and focus. There is a flash on top of the lens, which pops out with the aid of a mechanical button on the side, though not automatically. Just to the left of the lens is the focusing assist lamp, which aids the autofocus mechanism.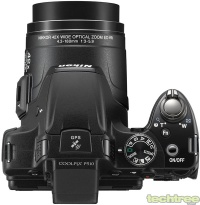 A pair of stereo microphones to record stereophonic audio is placed on top of the camera. Being placed so close to each other, we are skeptical about how effectively they can really record stereo sound (as you may later read in the review). Selection of different shooting modes can be conveniently selected via a mode dial present at the top right. A nicely recessed power button is present on the right and has a green LED ring around it which glows when the camera is switched on. The top of the right portion, which you hold, has a zoom rocker with the shutter release button at the centre. There is a shooting mode button present just besides the shutter button to help you choose shooting modes.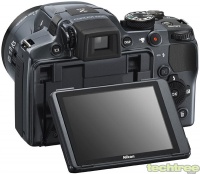 The back portion is dominated by the large high resolution 3"LCD display with 920k dots, thus producing a good image. The LCD can be pulled out, with vertical angular adjustments of 82 degrees downward and 90 degrees upwards, but it cannot move horizontally. In addition to this LCD, there is also an electronic viewfinder consisting of a color LCD with 230 dots. This lets you use the camera without a problem even in bright environments such as under sunlight. Another advantage of an electronic viewfinder is that it saves battery life. If you happen to be bespectacled, the dioptric adjustment dial on the side of the electronic viewfinder lets you view the image clearly without wearing glasses. The Monitor button on the left of the electronic viewfinder lets you manually toggle between the electronic viewfinder and the LCD. The Display button on the right lets you chose how much of a clutter of information appears in the preview display.
A red dedicator video recording button is present near the top right. A horizontal dial present just to the right of this button is the Command dial, which lets you fine tune settings such as aperture, shutter speed, etc, depending on the shooting mode selected. The playback button to its right, lets you view the recorded content. A multi-selector dial present below this button lets you toggle flash, macro mode, delayed shutter release or adjust EV value, when clicked in one of the four different directions. The OK button at the centre confirms the setting. You can also sift through your recorded content using this dial when in the playback mode. The menu button near the bottom right lets you access the different functions of the camera, such as setting the image \ video resolution, image stabilization, and white balance. As is self-explanatory, the button with the garbage bin icon is used to delete recorded content from the camera.
The placement of most of the frequently used buttons is good. They are placed such that you can easily operate the camera with just your right hand while holding it, using your thumb or index finger. The thumb rest and rubberized holding area makes it comfortable to hold while shooting.
The battery compartment containing the Li-ion battery can be accessed at the bottom of the camera and the hinge and door mechanism are really quite strong. The SD memory card slot is also present here. There is also a metal-threaded tripod socket to mount the camera on a tripod for steadier photo shoots. The placement of the tripod socket is near the center of gravity, so there is no undue stress on the tripod and the mounted camera is well-balanced and easier to maneuver. Like most other cameras, you cannot access the memory card when the camera is mounted on a tripod, because the lid to the battery compartment cannot be opened. Since this is a more serious camera than an ordinary point-and-shoot, it would have made sense to make this arrangement more convenient to the user.
There is a sieve on one side – the speaker, which is useful when you play back the video recorded by the camera. Video out is available in the form of a mini-HDMI and configured to be viewed at up to a resolution of 1920x1080. As noted earlier, there is an extra zoom rocker present on the barrel, which can be configured to be used as a manual focus control, making it very much convenient and useful.
Features
The P510 has eleven shooting modes to choose from through the mode dial, allowing you plenty of options for manual adjustments. The most basic is the Auto mode, where the camera controls just about everything for you; while in the Scene mode, the camera makes adjustments according to the subject being shot, and lets you do some adjustments. There are P (Programmable), A (Aperture Priority), S (Shutter Speed), and M (Manual) modes, where you can exercise the most control over the different camera parameters. There are 16 programs in the Scene Mode with standard settings such as portrait, landscape, night portrait, party/indoor, beach, snow, etc. There is a Sport Continuous mode to shoot fast moving subjects and it shoots with a burst. It supports continuous shooting modes at 7 fps, for 30 frames at 1 fps, and even 120 fps. Pre-shooting cache is used to improve the chances of getting a good picture, since up to five images are shot just before the shutter release button is pressed. Face detection and smile detection is also supported.
One of the attractions in this model is its 1080p (1920x1080) video recording at 30 fps with stereo sound. Autofocus and zoom work even during the recording. The silent zoom motor is not audible as you zoom while shooting videos. Recording at 640x480 at 120 fps and 1280x720 at 60 fps is available for 10 seconds each, resulting in a slow motion playback time of 40 seconds and 20 seconds respectively (played back at 30 fps). There is also an option to record at 1920x1080 at 15 fps for 2 minutes, resulting in fast speed playback for 1 minute. Audio is not recorded in these modes.
As we mentioned before, the camera can be controlled completely manually as well. You can set shutter speeds from as low as 1/4000 of a second to as high as 8 seconds, while f-number range is f/3-5.9. The self-timer can either be set to 2 or 10 seconds.
Another feature of the Nikon P510 is the hybrid image stabilization using a combination of sensor-shift mechanism and electronic stabilization techniques for still images. This is very effective and eliminates the need to use a tripod, even while shooting at full zoom, producing clear and sharp shots.
Photography enthusiasts will be thrilled to know that this camera supports auto-bracketing. This means that once the shutter release button is pressed with this mode enabled, the camera can shoot a sequence of three photographs with varying exposure levels, thus allowing you to produce HDR photographs with a wider range of intensity levels, than is possible in a single shot. Active D-Lighting is also supported and this preserves details in highlights and shadows, thus creating photographs with natural contrast. Since automatic panorama stitch mode is not present in this camera, a software – ArcSoft Panorama Maker 5 is provided to carry out the task on the PC. To keep up with the current trend, Nikon has also thrown in a 3D shooting mode, although that is limited to only still photography.
Performance
Once you switch on the camera, it takes under a couple of seconds to reach the ready-to-shoot state. When clicking photos, it was noticed that it takes around 1.5 seconds between two shots and around 3 seconds when using flash.
The overall image quality is good, and the even focus ensures a crisp overall image at all points, indicating good optics. Colour reproduction is quite good as is the case with most Nikon digicams. Chromatic aberration was not normally noticeable even when observed very closely, but it became increasingly visible towards the top right, as the zoom levels are increased. Noise levels are low, but they are still present and increase as the ISO is crosses beyond 400.
Macro mode lets you shoot objects that can be so close that they almost touch the lens. The details are finely captured with sharp focus.


The video recording quality is also quite good and this makes a good piece of equipment for recording at 1080p and you can silently zoom and focus (automatically or manually) while shooting videos. However, focusing issues plague the camera during video shooting, making it very difficult to maintain focus as you zoom. The focusing problem continued even after the camera had zoomed in completely as it continued recording, especially when the subject is moving. Strangely, this issue does not exist for still photography, where it swiftly focuses on objects. Incredibly, it even manages to focus in the dark, as long as the subject is not too distant. Also, it seems that the camera still uses only electronic image stabilisation during video capture, just like the P500, as you may notice that the video appears shaky.
The GPS works erratically and it did not lock on to the coordinates half the times, sometimes even failing to locate a satellite under open skies. 3D is still a novelty and while we did give it a try, it is nothing to write home about. Shooting stereoscopic images with a single lens can never give you impressive results, especially when the camera is handheld.
The camera does not have a proximity sensor, thus there is no automatic switching from LCD to electronic viewfinder when your face is close to the camera. Also, you cannot switch from LCD to electronic viewfinder while video recording is in progress. Videos are recorded in the MOV format using H.264, while images are recorded in JPEG format.
On a full charge, it is claimed that the battery lets you shoot up to 240 shots. The camera supports SD and SD HC cards. The P510 does have 43MB internal memory, which can be useful in a sudden-death scenario, when you find that the memory card is full.
You can check out the image gallery for sample shots and the image quality at different ISO values. In spite of our multiple attempts, we were unable to avoid minor blurring while taking photos at full zoom, even with the hybrid image stabilization turned on. A tripod is therefore a must at full zoom. You can see that noise becomes increasingly evident as the ISO setting is increased and image quality deteriorates rapidly as we move above ISO 400.
Verdict
Right from the moment I held the Nikon COOLPIX P510, it felt to be a cut above the rest. The build quality is very solid and ergonomics have been taken well care of. Full manual control along with a host of options coupled with high speed and high definition video recording up to 1080p with autofocus and zoom are definitely enticing. Add to this the super zoom of 42X which is really usable even with the camera being hand-held, thanks to the hybrid image stabilization, and it really leaves no room for complaints. The image quality is quite good, and so is the video quality, but for a camera priced at Rs.24,000, we expect a lot more. Weighing all the pros and cons, if you already have the P500, hang on to it, and if you are planning to buy a new high-zoom camera, then the 42x optical zoom and image quality make makes it worth buying. However, DSLR owners need not apply because the difference in image quality is just too much to ignore.

Features: 4.5/5
Design And Build Quality: 3.5/5
Performance: 3.5/5
Value For Money: 3.5/5
Mojo: 3.5/5
Overall Rating: 3.5/5
TAGS: Cameras, Nikon, COOLPIX, Jayesh