Review: Nokia X1-01
Dirt-cheap durability.
Rating

4
/5
17th Oct 2012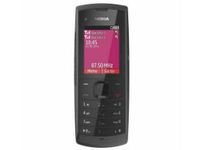 Pros:
Good dual-SIM capabilities; Rock-bottom pricing; Ultra-loud speaker; Torchlight.
Cons:
Bad reception through earphones; No multimedia messaging; No fast-forward in music player.
Nokia X1-01
MRP: Rs 2000
Street Price: Rs 1800 (Flipkart.com; Naaptol.com)


No-frill phones have their own appeal and market, as they have an extended battery life and are cheap. Nokia, one of the biggest brands in the mobile industry, has recently introduced an entry-level mobile phone in the Indian market, called the X1-01. This is a dual-SIM phone that comes with a 16 GB microSD slot and MP3 playback capability. Available at dirt-cheap rates, the product is squarely targeted at the budget-conscious consumer. Let's see if its performance is as good as its price.


Design And Build
The handset comes packaged with all the basic accessories of a mobile phone. The box is bundled with a charger, user manual, and earphones that feature a mic. To top it off, there is a spare battery in the package as well. The X1-01 has a very sleek and vibrant design and comes in a variety of colours, namely red, blue, black, and white. The review piece we received was red, with an attractive glossy finish on the back. The front of the phone has a black metallic look, and is made of sturdy plastic. Overall, the phone is pretty sturdy and the plastic on the side does seem like it can withstand a fair amount of damage.

The X1-01 weighs in at 91 grammes, making it lightweight and portable. The phone has a height of 4.4" and a width of 1.9". Its 1.8" display features pixel dimensions of 128x160. As expected from a budget phone, it has several limitations: the display is barely visible in direct sunlight, and has severely restricted viewing angles.


Features
For an entry-level phone, the X1-01 has a satisfactory interface, being bright and appealing. It has up to twenty themes to choose from, as well as a variety of colour schemes to jazz the display up. The menu icons have a pretty basic look and can be aligned as per the grid or list views. Having said that, a few more tweaks could have been made to improve the appearance of the icons, as they look a little too plain.

One major plus point is of course the dual-SIM feature. Pressing the * key will give you three options: Dual-SIM, SIM 1, and SIM 2. When choosing Dual-SIM, the phone prompts you to select the default SIM you want to use before every call. Our call tests yielded satisfactory results. There were no call drops or interference noise when conversing. The reception quality was good and the voice at the other end was loud and clear.

Messaging on the X1-01 is simple and easy. However, it does not support e-mails and multimedia messages. The device can store up to 250 text messages and up to 500 contacts in multiple phonebooks for both SIM cards.
Multimedia And Battery
The X1-01 possesses a pretty average MP3 player. Nokia should have done a little more by adding a few more options to it. Overall though, it gets the job done. I tested a couple of tracks using a 2 GB micro SD card. The sound quality is average, but the volume is pretty loud, which is a good thing. The buttons on the side are quite responsive while toggling between songs. Having said that, it would have been a lot more convenient if fast-forward and equalizer options were available. The device supports a playlist, as well as integration with FM radio. Overall, the MP3 player certainly scores a few plus points for the phone. The supplied earphones have good clarity and fit comfortably. While its output is loud and clear, when using it for calls, the volume subsides to a great extent. This makes the earphones useful only for music.

On the entertainment front, the device includes some classic yet addictive games such as Snake, Sudoku, and Music League, which brings in a touch of nostalgia. Coming to the power aspect, the X1-01 ships with a 1320 mAh battery, which is more than enough for this phone. Even after eight hours of use, the battery indicator dropped only by two bars out of five. Altogether, you can rely on the phone's power source to not fail, if you have another phone that does (*cough* Android *cough*).


Verdict
The Nokia X1-01 is priced at Rs 1800, and is pretty much in the budget of the majority. Sure, it lacks a number of features, but if you're willing to sacrifice them for a sturdy, durable, and not to forget affordable device, this is the ticket.


Features: 4/5
Design And Build Quality: 4/5
Performance: 4/5
Value For Money: 4/5
Mojo: 3/5

Overall Rating: 4/5
TAGS: Mobile Phones, Multi-SIM, Nokia