Review: Portronics PowerPack 4000
Now, no more running around for a charging point.
Rating

3.5
/5
09th Jul 2012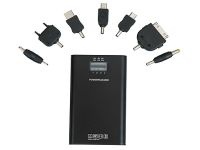 Pros:
Compact and lightweight; Can charge a variety of devices; Different charging options for mobiles and tablets.
Cons:
Does not have its own charger; Cannot charge multiple devices at the same time.
Portronics PowerPack 4000
MRP: Rs 2000
Street Price (As On 11-May-2012): Rs 1600 (in Mumbai. Sales Contact: +91 - 98106 10088).


In this age of powerful smartphones and tablets, the battery life of a product is as important as any other feature. After all, your smartphone ends up being pretty much useless, if it doesn't have any juice in it. To counter this, Portronics has launched a portable charger, called the PowerPack 4000. Let us see how it works and what it can do for you.


Design And Build Quality
The PowerPack 4000 is about the size of a 4" touchscreen smartphone. It includes a 4000 mAh battery, but is fairly lightweight. It looks like it could survive a few drops, thanks to its sturdy build.

The design is minimalistic, with one micro-USB port, a full sized USB port and the power switch at the top. The front has indicator lights to show charging status. The retail pack comes with 7 different attachments, for charging up various devices along with a connector cable. It also has a handstrap that can be attach to the bottom of the device.


How Does One Go About Using It?
Its nothing complicated; you connect one end of the supplied connector cable into the OUT port of the charger, while the other end goes into your device using one of the compatible connectors. Once connected, press the P/C button placed at the top and your device will begin charging.



The IN port charges the internal battery, while the OUT port charges the external device.

In the default mode, the device will start charging at 5 Volts \ 0.6 Amperes, which is good enough for most mobile phones. If you would like to charge it faster (which is not recommended), or if you want to charge your tablet (which usually has a higher capacity battery), you can press the P/C button twice to change the charging mode to 5 V \ 1.5 A. It also has an additional charging mode of 9 V \ 0.6 A, which should not be used for mobile phones.



Green LEDs (top row) indicate the charging mode, while Red LEDs (bottom row) indicate the battery charge of the PowerPack.

That being said, you might wonder: how does one charge this thing? Well, here's the irony — the portable charger does not come with a charger of its own. Yes, one might argue that you can use the supplied micro-USB connector cable to charge it, but that is not a real solution. You will have to use a wall socket charger (bought separately) or your computer's USB port to power it up. Connecting a micro-USB cable to the IN port will light up the red LEDs, indicating that the PowerPack 4000 is being charged.


Field Testing
For a field test, I took a fully-charged unit to an event in Delhi. As evening drew closer, my trusty Xperia Play ran out of juice. Since the flights were delayed, I waited at the airport, charging my phone's 1500 mAh battery. As expected, it took roughly 2 hours for my phone to reach 100%, considering that I had used the 0.6 A mode. The good part is that even after my phone was charged, I could charge the phones of two other industry colleagues (one from Tech2.com), who were by then straining at the leash to get their depleted devices powered up again. However, this brings us to another small drawback — the PowerPack 4000 cannot charge multiple devices at once.


To Buy Or Not To Buy?
Let's put it this way: if you're the kind of guy who runs around hunting for a charging point frequently, you should purchase this device. It is compact, lightweight and good value for money at Rs 2000. However, if you have only one device that requires charging, then purchasing a spare battery for it might be a cheaper option. Personally, I would say it's a decent device to carry around if you're stepping out for a long trip.


Features: 3.5/5
Design And Build Quality: 4/5
Performance: 4/5
Value For Money: 3/5
Mojo: 3.5/5

Overall Rating: 3.5/5