Google Play Gift Cards Now Available On Snapdeal And Other Retail Stores
You can now purchase Google Play Gift Cards on Snapdeal for Cash-On-Delivery shipments.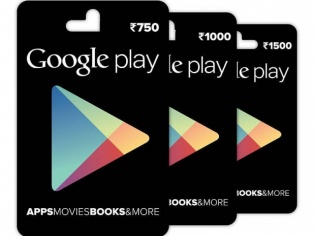 On Tuesday, Sept 15, Google has announced wider availability of its gift cards in India.
To recall, the Search Giant had launched the prepaid vouchers in the country earlier in June in 3 denominations - Rs 500, Rs 1,000 and Rs 1,500.
However, while then it was announced to be available only at Vijay Sales and Spice Hotspot stores in few cities like Mumbai, Bengaluru, Delhi, Kolkata and Hyderabad, the prepaid vouchers are now said to be available on leading e-commerce site Snapdeal.com even for cash payments.
Also, Google Play Prepaid Vouchers are now available in more physical stores such as Planet M, Planet Mobile and Sangeetha Mobiles.
Along with this, it is also worth noting that Google is now bringing these gift cards in 3 denominations - Rs 750, Rs 1,000 and Rs 1,500.
As most of us already know, these prepaid vouchers can be used in Google Play Store to purchase your favorite apps and games along with other digital content. It is also important to note that these gift cards can be used for in-app purchases too.
This step looks more promising for the search giant while it is trying to reach more and more users in India and complementing this, mobile Internet users are simply growing in the country.
Also, recently, Google announced the new pricing strategy of apps and games on Google Play Store to match the standards of Indian currency.
Having this said, Google Play Store must also begin to accept other modes of payment like Internet Banking and almost all Indian Debit & Credit cards.
TAGS: Google Play, Google Play Gift Cards, Prepaird Vouchers, Android, Google India