WhatsApp Web Now Available For iPhone Users
You may not be receiving an App Store update, as this feature appears to be an update on the server-side of your WhatsApp account.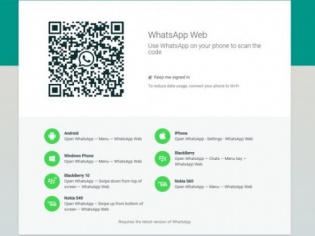 It looks like WhatsApp has finally brought its web client for the iPhone users.
The feature is not just available to all the users yet as it is being rolled out in phases. Also, this appears to be an update on the server-side instead of an App Store update. Thus, it is worth noting that iPhone users would not be receiving any kind of App update from the App Store.
As we all know by now, WhatsApp's web client allows its users to continue their WhatsApp conversations on the webpage by just visiting http://web.whatsapp.com and scan a QR code with WhatsApp on the smartphone.
Since the web client works in conjunctions with the mobile app, the web client stops working if the mobile connection drops.
[Also Read: Hike May Soon Roll Out Web App Similar to WhatsApp Web]
Also, a twitter user has recently shared the screenshots of the Web Client working on his iPhone.
Looks like WhatsApp Web is turned on for iOS. pic.twitter.com/qGYwlqahIi

— Krishna (@ofkrishna) August 19, 2015
However, This feature for first launched for Android users nearly eight months ago.
Recently, the messenger service added a host of new features for iPhone users which included an email-like feature to mark a conversation as read or unread with just a swipe and the option to mute individual chat.
TAGS: WhatsApp Web, iPhone