Sony Launches 4K Home Theatre Projector For Rs 14 Lakh
The "affordable" state-of-the-art display can produce a 200" image; upscales HD content as well.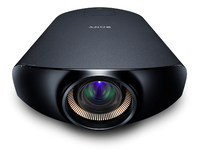 Do you have a large house, sleep on stacks of cash at night, and require your own movie theatre? Well, look no further, as Sony has launched a projector system that offers a full 4K resolution. The VPL-VW1000ES can produce images up to 200" diagonally. The brightness is 2000 lumens, which seems low for such a high-end device. The lamp life is rated at between 2000 and 2500 hours.

For those who enjoy HD content, the projector offers a option called Reality Creation, which basically upscales SD, HD or 3D content to 4K sizes, or pixel dimensions of 4096x2160.From what I saw at the demo, it looks like it does a good job with the upscaling. The VPL-VW1000ES 4K home theatre projector is available in India at an insane price of Rs 14,00,000. For mere mortals like us, I guess it's time to break into a bank vault.