Google Messenger Update Lets You Send Animated Stickers | TechTree.com
Google Messenger Update Lets You Send Animated Stickers
Is slowly turning into a messaging platform.
While Google's Messenger app was built just for SMS, the search giant seems to be spicing up things from time to time, by adding some interesting features. And now, a new version 1.4 update seems to be rolling out giving users the ability to send cute animated stickers along with location sharing.
Obviously, all of this takes place considering the receiver also has the Messenger app installed.
Stickers are big with Messaging platforms and while we have no clue why WhatsApp has not adopted them yet, Messenger adds a couple of fun animated ones that you can download and send.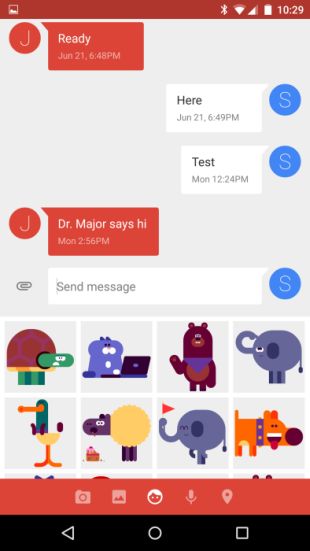 Sending the same is simple. You first tap on the attachment icon next to the text bar, then hit the face icon and tap to select the sticker of your choice.
Sharing your location also happens in a similar manner. It's just that in the end you tap on the location pin icon at the bottom, instead of the sticker icon.
As always, the update is rolling out gradually, but you can take a shortcut and get your Messenger updated by downloading the .apk file from APKMirror.
TAGS: Mobile Phones, Software, Apps, Android, Google