Flipkart Unveils New Feature Which Allows Users To Search Via Images | TechTree.com
Flipkart Unveils New Feature Which Allows Users To Search Via Images
The image search similar to that in Google can come in very handy to search for visually similar products already listed on Flipkart.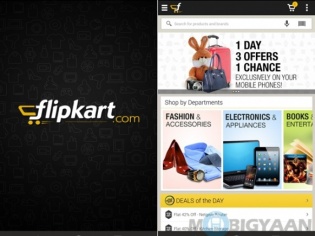 Flipkart has announced a new feature on Wednesday for its mobile app as an update giving it an edge over its rivals.
The new feature called the Image Search allows its users to upload an image of the product they are looking for and find visually similar products on the popular e-commerce platform.
To make this as clear as possible, the new feature brought in to the Flipkart mobile app is quite similar to what is already existing in Google where you can drag and drop an image of anything you want to know about and Google will search visually similar searches.
However, the Image Search in Flipkart is for now working exclusive for the fashion category of products.+
Flipkart is likely to search for the apparels looking out for same colour, pattern or style.
This feature we expect to be very handy in finding out visually similar products which are already listed on Flipkart.
Also, it is worth noting that the new feature has been introduced only in to the official mobile app and not on the web which is likely because of the much anticipated step to be taken by the company to move on to the mobile app format completely.