Flipkart May Follow Myntra's Path By The End Of This Year | TechTree.com
Flipkart May Follow Myntra's Path By The End Of This Year
The company is looking forward to shutdown the website and transform itself into a mobile app-only shopping platform.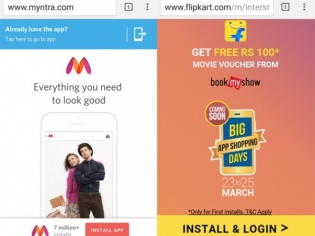 With an increasing number of people using more smartphones in the country, it looks like Flipkart is planning to shut its website down by the end of this year.

According to Economic Times, Flipkart might follow Myntra's path of moving to an app-only model.
Flipkart has around 30,000 merchants selling over 20 million products and nearly 40 million registered users. Nearly two-thirds of its online traffic comes from users in small cities and towns. The app is aimed at customers who don't own a desktop computer and have limited access to broadband.
Flipkart claims that nearly 80% of its traffic and 70% of sales is through its mobile app which is pretty much of a background information for the company to concentrate more on its mobile app.
[Also Read: Dear Online Shops, Stop Forcing Your Apps On Us]
However, there has been no official announcement by the company regarding this move yet. But, its recently owned Myntra is all set to become app-only shopping platform from May 1.
Smartphones have also become far more affordable, compared with a couple of years ago, and 6-7 million of them being brought into India for local sale. Going by the numbers, an app's consumer reach will be larger than the mobile version of a website or the website itself.
Also, India is the third-largest Internet market in the world with more than 243 million users, trailing China and the US in that order.
However, with that being said, we believe that this move by Flipkart may not be one of the best moves.
Even though most of the Internet users are from smartphones in India, many are with some basic low-end model with low space to install many apps.
This might lead users to hop on to other shopping portals like Amazon.
TAGS: Flipkart