Xolo Launches New Variant Of Cube 5.0 Smartphone
The refreshed Xolo Cube 5.0 gets 2 GB of RAM and 5 MP front facing camera.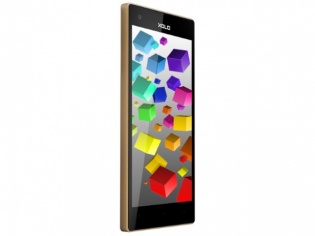 Xolo has recently come up with a new variant of its recently launched Cube 5.0 smartphone which the company has announced to be available across retail stores and trade outlets at Rs 8,888.
The new variant of the Cube 5.0 smartphone which is also known as the 'Refreshed Xolo Cube 5.0' comes with twice the memory, improved display and also a better front facing camera.
Speaking about the differences we can find among the two variants is that, while the refreshed variant comes with 2 GB RAM, the original Cube 5.0 features just 1 GB of RAM.
Also, the new variant comes with a 5 MP front facing camera while the original one comes with a 2 MP front facing camera for selfies.
Apart from this, the other specifications seem to be same as the original smartphone with 5 inch screen, 1.3 GHz quad core processor, 8 MP rear camera, 8 GB internal storage, 3G Connectivity, Bluetooth, Micro-USB and 2,100 mAh battery powering the device.
Having said this, the company seems to have also copme up with a minor price cut on its original Xolo Cube 5.0 smartphone and the revised price is Rs 7,489 while it was launched earlier with a price tag of Rs 7,999.
TAGS: Mobile Phones, XOLO, Xolo Cube 5.0, Android