LG's Mystery Budget Windows Phone Is The Lancet
Will be stepping back into the Windows Phone arena after 5 long years.
LG's long standing rumour has finally been revealed and the smartphone is apparently a Verizon exclusive as WindowsCentral uncovered. The device is a budget one and comes with like hardware specifications and a design that takes the plain Jane approach.
While the source cannot confirm whether the handset will be exclusive to America's Verizon carrier, the handset does stand a chance when put up against Microsoft's latest creations.
Do keep in mind that the LG Lancet has yet to be announced (the handset leaked out via an e-brochure), but instead of Windows 10, we see Windows Phone 8.1 with Update 2 in the specifications chart.
Talking about software, LG has also managed to squeeze in some of its specials from the the Android stable. This includes Knock On to wake up the screen with a tap and Soft Light/ Gesture Shot for selfies.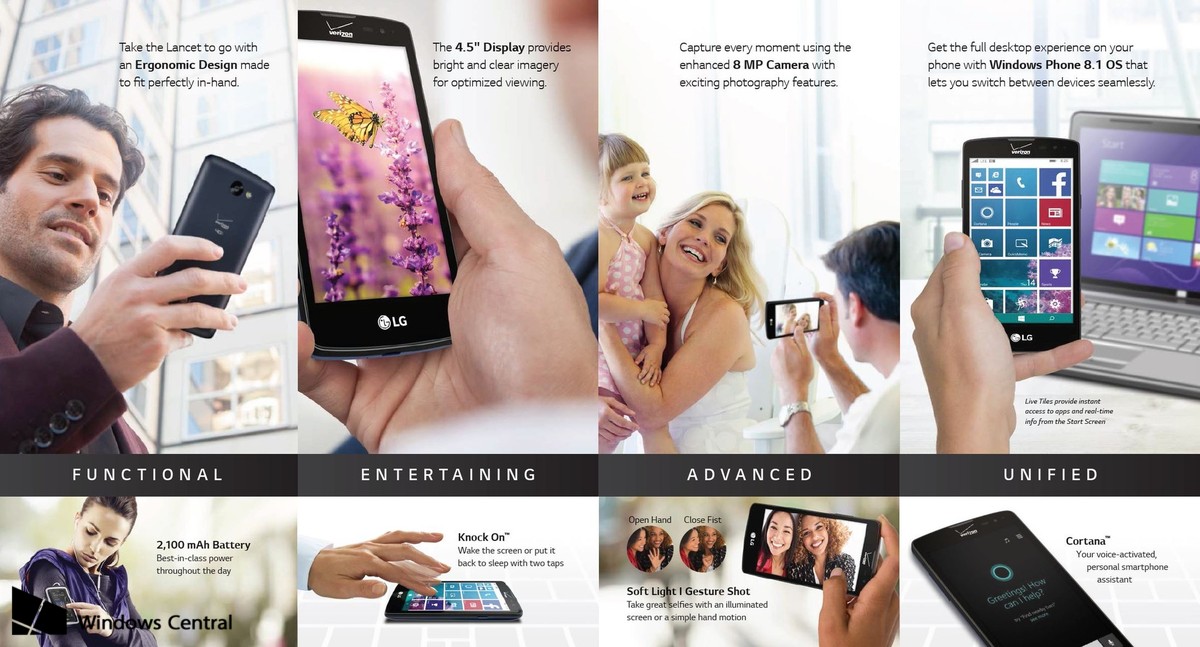 As for the hardware:
We get a 4.5 inch (854 x 480 pixels) display
A 1.2 GHz Qualcomm Snapdragon 410 (MSM8916) with 8 GB of internal storage (expandable)
There is an 8 MP snapper at the back while a VGA front-facing unit takes care of selfies
The smartphone weighs 143 gms supports CDMA LTE bands (for the Americas), all powered by a 2100 mAh battery
So far, there is no news about a launch date nor about its availability globally; as the Lancet looks like a smartphone specially built for the Verizon network.
TAGS: Mobile Phones, Windows Phone 8.1, LG