Edimax Intros Wireless Security Camera For Rs 4700 | TechTree.com
Edimax Intros Wireless Security Camera For Rs 4700
Now you can keep an eye on your home from your iPhone or Android phone.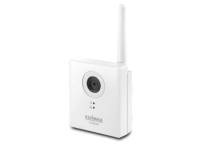 Edimax, which is known mostly for its networking devices such as routers, has launched a new wireless network camera, IC-3015Wn. This 1.3 MP camera will come handy in situations such as monitoring your home when you are out of town, or keeping an eye on your baby when you leave it alone to run some errands. Equipped with Wi-Fi support, this device can directly connect to your Wi-Fi internet router to relay live video feed over the internet, securely.
With a compact size, this camera can be placed just about anywhere without hassle. Its lens claims to provide a wide field of view, to maximise the area that you can keep under surveillance. The 1280x960 video is captured at 30 fps and transmitted over the network. It can also capture clips of up to 60 seconds duration and send them to pre-determined email addresses. Video capture can be triggered when the camera detects any motion in its field of view. The cam comes with a free viewer application that supports 16-channels, thus letting you view up to 16 feeds from 16 different cameras, simultaneously. You can even view the live feed on your iPhone or Android phone using the free EdiView app available for these devices, which also supports multiple feeds, although we are not sure how many. The Edimax IC-3015Wn is priced at Rs 4700, which seems to be a good deal.