Genius Launches Portable Stereo Gaming Speakers
The SP-i250G can also be attached to audio devices; retails at Rs 2500.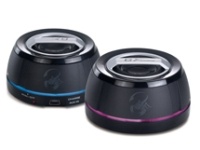 For those of you who game on your laptop, and are not particularly fond of the sound quality of the inbuilt speakers, Genius has something that can help you out there. The Taiwan-based company has launched a new set of portable stereo gaming speakers called the SP-i250G under its GX Gaming product range. Each set consists of a pair of omni-directional stereo speakers, out of which you can use a single speaker with any audio device, such as an MP3 player, a tablet, or a notebook.
The speakers measure 71 (w) x 40 (h) x 71 (d) mm and weigh 188 grammes per set. They can be switched on \ off by twisting it at the centre, and the 470 mAh rechargeable battery claims to offer eight hours of playback on a single charge. Sporting a 40 mm neodymium driver and a gold plated plug to reduce noise, the speaker also comes with an LED ring in the middle that changes colours when music is playing.


The box pack contains two speakers, the USB audio-cum-charging cable, two pouches, and a multi-language user manual. Priced at Rs 2500, the Genius SP-i250G speaker comes with a one year warranty. You can pick it up for Rs 2250 via Flipkart.com.