Milagrow Slashes Prices Of Its Woman-Friendly Tablet | TechTree.com
Milagrow Slashes Prices Of Its Woman-Friendly Tablet
Women TabTop now available at Rs 10,000.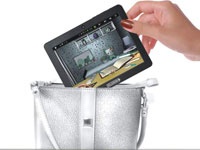 Gurgaon based company, MilagrowHumanTech, which created a women-specific tablet called the Women TabTop, also known as the MGPT02-8 GB, is now selling the device at a discount. Originally priced at Rs 14,000, the tab is being sold at 30% lesser price at Rs 10,000. The 7" device with pixel dimensions of 1024x768, weighs 275 grammes. Powered by a 1.2 GHz ARM Cortex A8 processor and 1 GB of RAM, the tab comes with Android 2.3.1 (Gingerbread) out of the box. It also comes with a unique UI designed for women.
The TabTop comes preloaded with women-centric apps such as Fashion for Ladies, Recipes, Self Defence, and Mom-to-be applications. It also comes with specially pre-installed emergency applications for security purposes. Other features include a 2 MP rear and VGA front camera, 1080p Full HD video playback support, Wi-Fi, 3G, and HDMI support. This model sports 8 GB of internal memory. Other versions of the tab include the 16 GB and 32 GB models. You can pick up the tablet at the same cost from Flipkart.com, Letsbuy.com, or the Landmark's official website. The device is available in blue, silver, pink, and black hues.