Kodak Unveils Its IM5 Camera-Centric Smartphone At CES | TechTree.com
Kodak Unveils Its IM5 Camera-Centric Smartphone At CES
Delivers a smartphone with a Kodak logo on it, in short.
Kodak has finally announced its camera centric smartphone called the IM5 at CES. The smartphone (that was designed by Bullitt UK) comes with mid-range specs and a similar price tag (299 EUROS). What Kodak seems to have delivered out here is a smartphone with some special imaging software that makes it easier to edit, share and print the photos you have clicked from the device.
Frankly speaking, after that PR note full of superlatives, we expected something better even if it came in the form a simple looking smartphone. The smartphone sports nothing new and looks a bit boring if you ask us. As for the internals, Kodak seems to have focussed more on the software side of things like we had doubted in our earlier report. The device seems to have nothing new in terms of hardware, which leads us to believe that there will be no "best-in-class" imaging happening here (think more on the lines of Instagram).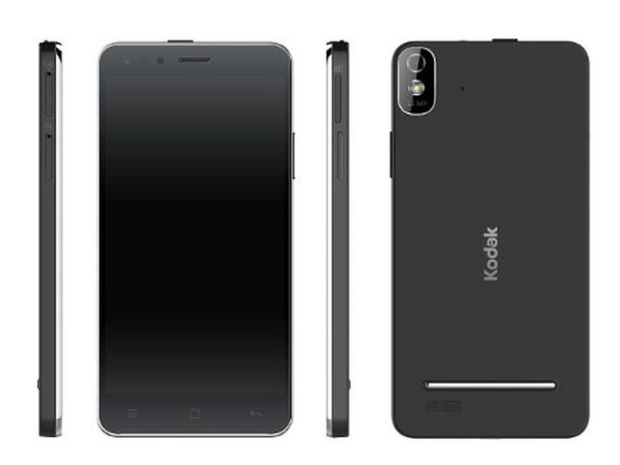 What Kodak has worked on, is the software bits of the smartphone and we really can't make its much sense out if it. The software on the IM5 as Kodak puts it, makes it simple to edit and share those 13 MP images that the sensor delivers. The image management software "at the touch of a button, lets users quickly edit photographs and either display them on the device, share on social media or print using a customized app compatible with home printers as well as future printing and sharing services."
As for the hardware specs:
There is a 5 inch HD (720p) screen on the front
Inside, we get a 1.7 GHz octa-core processor (MediaTek) with 1 GB of RAM
The memory department consists of 8 GB of internal memory with micro SD card support for expandable storage
We get a 13 MP primary camera with an LED flash on the back and 5 MP front facing unit for selfies
Kodak says that the handset will run Android KitKat out of the box, but "promises" an upgrade to Lollipop in the near future
In short we will not know what Kodak has in store until we review the handset. Until that happens, Kodak's smartphone seems to just be another smartphone with nothing special apart form the Kodak branding; and this may after all be the point of this whole exercise.
The Kodak IM5 will start selling in Europe towards the end of March, later followed by the US.
TAGS: Mobile Phones, Android, Kodak, Kodak IM5