Samsung Launches New LED Monitor Series
Starts from Rs 6200 for 18.5".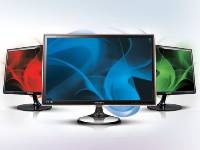 Samsung has launched a new LED monitor series in India, which claims to be superior to its predecessor in more than one ways. The new monitors sport a better design and apparently, have better picture quality. Available in screen sizes of 18.5", 20", 21.5", 23", and 27", these target general as well as business consumers. The new series does not have any specific name as such.
The new monitors come with a specified Mega Dynamic Contrast Ratio of 5,000,000:1. Samsung has once again used its Magic Angle technique for wide vertical as well as horizontal viewing angles of up to 178 degrees, thus the images appear the same regardless of the position of the viewer. Thanks to the Eco Saving mode, it supposedly consumes up to 50% less power. HDMI connectivity has been made standard in all of these monitors, while the 23" model also supports 3D with 2D-to-3D conversion. The pricing starts at Rs 6200 and go up to Rs 20,500, and all of these come with a 3-year on-site warranty.