Google's Upcoming Nexus 6 Phablet Gets Listed On Flipkart | TechTree.com
Google's Upcoming Nexus 6 Phablet Gets Listed On Flipkart
While the price hasn't been revealed yet, don't expect the Nexus 6 to be as affordable as its predecessor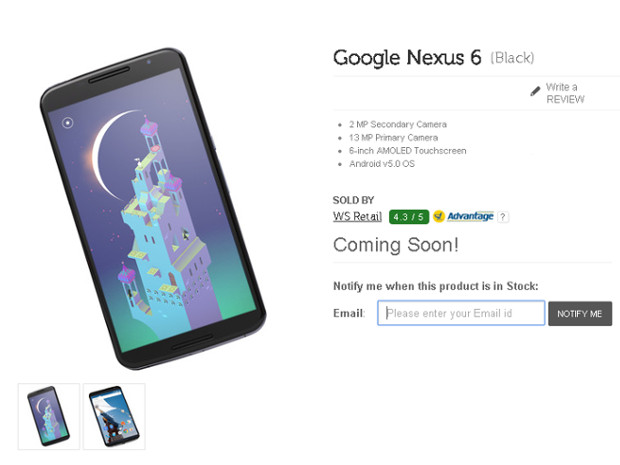 Google's new flagship Nexus 6 smartphone is expected to go on sale in the next few days, and confirming that launch schedule is the device's appearance on Indian e-retail site Flipkart. The listing for the Nexus 6 32GB carries the tag 'Coming Soon', while not revealing any additional details such as the price.
The device hasn't yet been listed on Google's own Play Store in India, while the new Nexus 9 tablet has, carrying a price tag of Rs. 28,900. One thing however is quite certain, the Nexus 6 will no longer tick the box of an affordable flagship device, given that the device has been priced at $649 (approx Rs 40,000) in the US market.
While the Nexus 6 has got its own page on Flipkart, it is to be seen if the device will make its way to other e-retail sites in India. Google had earlier announced that India will be among the first batch of countries where the Nexus 6 will go on sale, but only provided a vague time period of early November.
Recent reports suggest that pre-orders for the Nexus 6 in Europe will be delayed from November 3 to November 18, however no reasons for this were cited. The pricing for the device in Europe is expected to be EUR 569 (approx Rs 44,000) for the 32 GB variant and EUR 649 (approx Rs 50,000) for the 64 GB variant.
Despite the high price of the Nexus 6, the device packs some of the highest end specs you can find on a smartphone today, while also featuring a premium build. While the design is identical to that of the Moto X, the screen, camera, processor and other various bits have been upgraded, in keeping with Google's demands.
For a complete overview about the specifications of the Nexus 6, head here.