MediaTek Unveils New 64-bit Chipsets; Supports More Bands Than Ever
New chipsets will not break any records but will simply turn smartphones into world phones.
MediaTek has unveiled two new 64-bit chipsets, adding a few more capable SoCs (System on Chip) to its long line-up. The new chipsets include the MT6753 (0cta) and MT6753M (quad) that will add to its range of mid-range chip solutions for smartphones.
The MT6753 is basically a replacement for the older MT6752 SoC that comes with support for more network bands. These would include added support for even more 3G/4G bands, as well as CDMA2000 1x and EVDO Rev A networks making any smartphone that uses it into a global device.
The MT6753 comes with 8 x Cortex A53 cores that are clocked at 1.5 GHz for first four and 1.3 GHz for the rest. This clearly means that the 1.7 GHz MT6752 is going nowhere for some time; at least till MediaTek outs another chipset that breaks the 1.7 GHz barrier. The chipset is capable of supporting Full HD 1080p displays and camera sensors of up to 16 MP with 1080p video recording at 30 fps.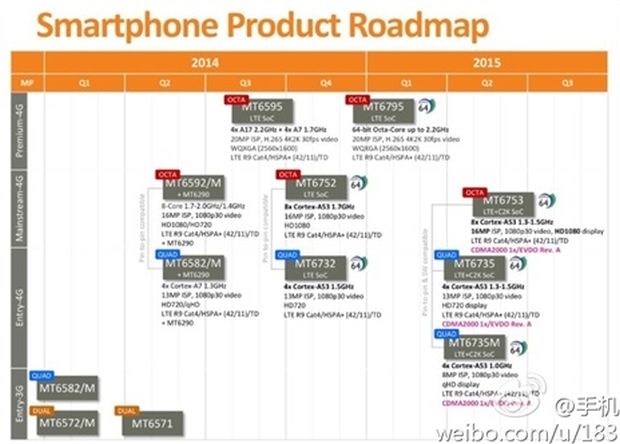 The second chipset to be unveiled was a watered-down version of the MT6753 tagged as the MT7653M. The M version comes with a similar architecture but with a quad core set up but supports displays up to 960 x 540 pixels and camera modules up to 8 MP only.
Clearly MediaTek has a long way to go till can go shoulder to shoulder with its biggest rival Qualcomm. Again, we also have to wait and see whether Google's latest Android update, Lollipop supports MediaTek's chipsets as well. Both chipsets are said to hit production next year and will begin showing up in smartphones by the second half of 2015.
TAGS: Hardware, processors, MediaTek