Samsung Launches The Gear S In India; Attaches Ridiculous Price Tag | TechTree.com
Samsung Launches The Gear S In India; Attaches Ridiculous Price Tag
The smartwatch will connect to 2G/3G cellular networks and allow users to make and receive phone calls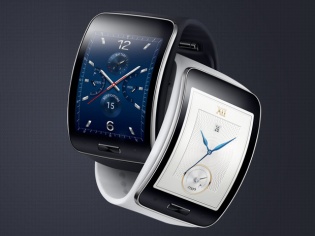 Alongside unveiling its latest high-end phablet – Galaxy Note 4 – in India, Samsung also launched its Tizen-based Gear S smartwatch in the country. The device has been priced at Rs 29,500, and has the ability to connect to 2G/3G networks to allow users to make and receive calls.
Samsung is marketing the Gear S as a standalone device, which doesn't need to be in close proximity to a smartphone to be of any real use. The device can stay connected via a whole host of networks, 2G/3G cellular networks, Wi-Fi and Bluetooth 4.0, but in no way is it a replacement for the smartphone in your pocket.
The Gear S features a 2-inch curved AMOLED display with a resolution of 360x480 pixels. Powering the device is a dual-core 1GHz processor, coupled to 512MB of RAM. There's 4GB of on-board storage, a 300mAh battery that's supposedly good for 2 days of use on a single charge and a tray for the nanoSIM at the back.
Pretty much the only party trick of the Gear S is the ability to display notifications from text messages, social networks, calendars and a few other apps without being paired to a smartphone. Users will also be able to reply to these notifications through voice, and of course there's also an on-screen keyboard.
Like some of its other smartwatches, the Gear S gets a heart-rate sensor at the rear, and Samsung has loaded its own S Health app apart from Nike+ Running. Users will also have a turn-by-turn navigation service, provided by who else by Nokia's Here Maps service.
With the market for smartwatches is growing at breakneck speeds, it's okay to see manufacturers throw up all sorts of contraptions until they find that winning formula. The biggest problem holding back the Gear S however is its ridiculous price tag, which is bordering high-end smartphone territory.
TAGS: Samsung, Samsung Gear S, smartwatch, wearable