Download: Microsoft Windows 8 (Consumer Preview) | TechTree.com
Download: Microsoft Windows 8 (Consumer Preview)
Offers a glimpse into the upcoming desktop OS.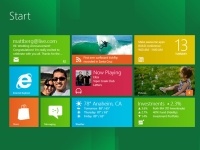 Microsoft has unveiled the latest beta version of its desktop OS, Windows 8. This particular version is available for evaluation by the general public and gives a peek into the new Metro UI. The download is available as an ISO file, which can be written onto a DVD or bootable USB flash drive. If you have Windows 7, you can use the Windows Disc Image Burner, but other versions will require a third-party programme. The system requirements are the same as that for Windows Vista and Windows 7, as mentioned below:
1 GHz or faster 32-bit (x86) or 64-bit (x64) processor.
1 GB RAM (32-bit) or 2 GB RAM (64-bit).
16 GB available hard disk space (32-bit) or 20 GB (64-bit).
Graphics card supporting DirectX 9 or higher.

Developer: Microsoft
Size: 2.5 GB (x86), 3.3 GB (x64)
Platform: Windows
Licence: Free (Valid until Jan 2013)
Download: windows.microsoft.com/en-US/windows-8/iso