Opera Mini Beta Subscriptions Now Open For Windows Phone | TechTree.com
Opera Mini Beta Subscriptions Now Open For Windows Phone
As predicted, post the licensing agreement , the company has finally prepared a Windows Phone version of the browser.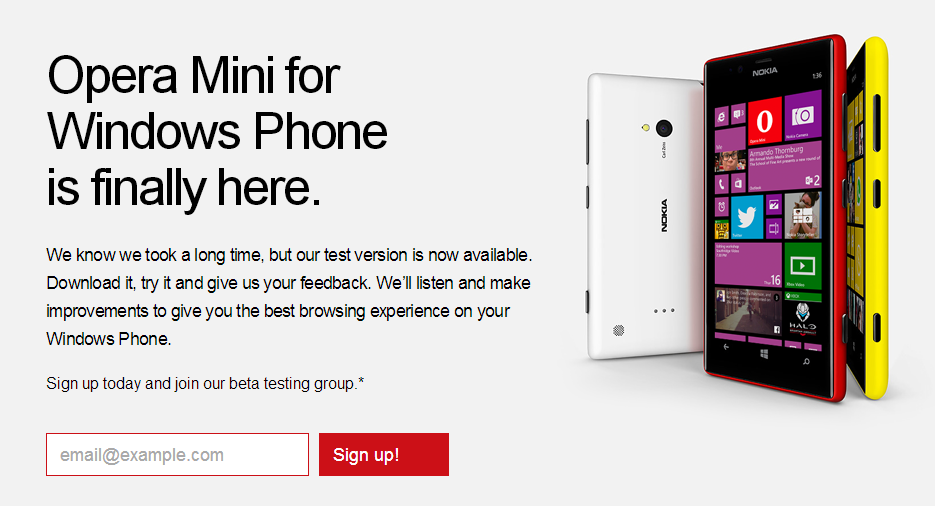 If you were indeed bored to death of Internet Explorer 11's (IE 11) advance capabilities on your Windows Phone 8.1 powered devices, well there is now a sign of hope. After multiple requests from users who have switched over to Windows Phone (WP) from other mobile platforms, Opera finally decided to give in and release a WP version of the world's favourite mobile browser -- Opera Mini.
Yes, Opera has made it official by opening a page on the same on its website and has invited users to join their beta testing group for WP devices. The company has indeed taken its own sweet time and while Internet Explorer surely gets an 'E' for effort, Opera should be able to shake things up a bit thanks to its recent licensing agreement with Microsoft.
The company had recently signed a deal with Microsoft to be the default browser on the tech giant's low cost handsets and somehow back then we did figure out that we would soon see a Windows Phone version of Opera Mini.
Well, the time has come and while we have signed up for the beta testing group, we have yet to receive a download link for the same. Hopefully things are a bit different as everything else offered by third-party developers in the Windows Phone Store renders in a way similar to IE 11 which can be a mess when it comes to complicated websites.
TAGS: browsers, Apps, Opera, Software, Mobile Phones, Windows Phone