WhatsApp Could Soon Introduce A Free Voice Calling Feature | TechTree.com
WhatsApp Could Soon Introduce A Free Voice Calling Feature
Given that the addition of the feature has been officially confirmed, it's only a matter of time before it goes online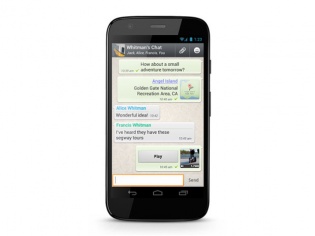 Facebook made an open challenge to apps like Snapchat with the debut of its Slingshot messenger, but now it could be time for the company to use heavyweight WhatsApp to do some further damage. Recent reports have suggested that the a free voice calling feature could soon make its way to WhatsApp, taking on services such as Skype and Viber.
The latest update for WhatsApp brought with it language translation feature, which supposedly will be used to translate UI elements for when users get a call. Since translation usually is the last stage in app development, its expected that the voice calling feature will be added quite soon, even if the service may be officially rolled out much later.
This isn't the first time news of WhatsApp getting a free voice calling feature has broken. In fact, it's only a matter of time before the company rolls out the feature, as CEO Jan Koum had already promised users of its arrival sometime in the second quarter of 2014.
[Also read: Indian Telcos Want WhatsApp & Viber To Pay Them]
"We are going to introduce voice in WhatsApp in the second quarter of this year. I think we have the best voice product out there. We use the least amount of bandwidth," said Koum at a keynote event during MWC 2014. As with most major WhatsApp updates, the feature will first roll out for Android and the iPhone, followed by its launch on BlackBerry, Windows and other mobile operating systems.
Facebook is making sure WhatsApp is staying incredibly relevant with the changing tech scenario, and recently released support for Android Wear smartwatches as part of a beta update. While new news has suggested the feature is now out of beta, the app still doesn't show up on the dedicated Android Wear section on Google's Play Store.
TAGS: WhatsApp, Viber, Skype, voice calling, Facebook