Indian Telcos Want WhatsApp & Viber To Pay Them | TechTree.com
Indian Telcos Want WhatsApp & Viber To Pay Them
An estimate suggests that telcos lose Rs 5,000 crore per annum due to customers using such services.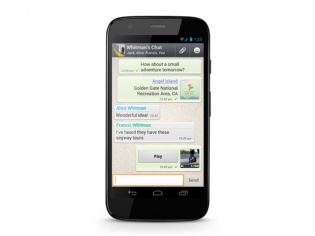 The Telecom Regulatory Authority of India (TRAI) has floated a proposal which could see developers of apps like WhatsApp and Viber paying telecom companies connectivity charges and a share of revenues going to the government as well. The move is aimed at curbing losses incurred by telcos as more users are making calls and sending messages over the internet, as opposed to using traditional mobile networks.
While a Business Today report states that TRAI is unlikely to pose any major restrictions on free messaging and calling services, it does want in on the action. Telecom industry estimates suggest that network providers lose Rs 5,000 crore annually due to customers making use of free apps for calling and messaging.
That number is expected to grow Rs 16,400 crore in the next two years as the number of users accessing the Internet via mobile is growing at a rapid pace. The other major concern the Indian government faces is in terms of security, which might lead to the concerned services needing to setup services in the country.
"We may be asking them to put their servers in India as they get connected to any telecom network in India without getting themselves registered that is something which is also a security concern for us," said a senior Department of Telecommunications official.
What's surprising is that none of the telecom companies, or TRAI, has mentioned revenues generated through mobile data subscription that they sell to customers. While using WhatsApp's (isn't really free) and Viber's services may appear to be free, users are paying for gaining access to the Internet on their devices.
Moreover, use of such services isn't exempt from data charges in most cases, which ultimately points to telcos and the government already earning huge revenues from customers making use of 'free' messaging and calling clients. What the move ultimately hilights is telcos reliance on customers making calls and sending messages to earn profits.
It does seem odd that rather than promoting use of services like WhatsApp and Viber, which will in turn bump up the mobile data usage in the country, TRAI and Indian telcos are going after a share of the revenues generated by these companies.
TAGS: WhatsApp, Viber, Department of Telecom, India, mobile internet