Samsung Announces Gear S Smartwatch With 3G Bands For Voice Calls | TechTree.com
Samsung Announces Gear S Smartwatch With 3G Bands For Voice Calls
Will come with an optional accessory that will allow you to make calls without talking to your watch.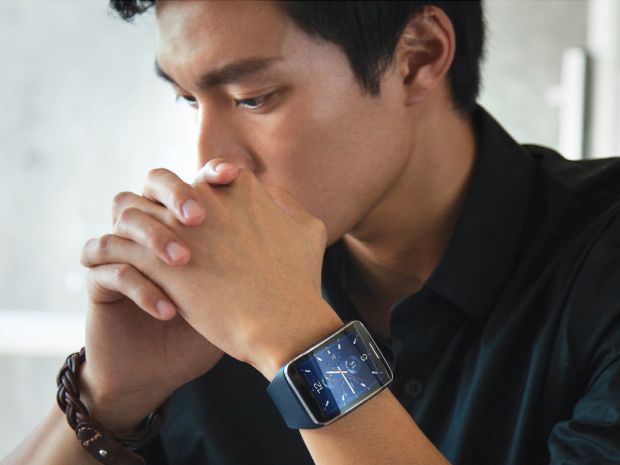 Samsung has unveiled its newest smartwatch tagged as the Gear S. While we have no clue what the S stands for, we do know that it has something to do with the SIM card slot that will allow you to make calls.
Yes, the Samsung Gear S unlike the rest of the Gear range will actually allow you to place calls and comes with its own 3G capable SIM card slot. Clearly this is not Samsung's first attempt at making a smartwatch since it had delivered a similar device called the Samsung S9110 (back in 2009) that allowed you to make calls as well.
As for the specs, the Samsung Gear S smartwatch:
Runs a Tizen-based OS
Features a 2 inch curved Super AMOLED touchscreen display with a resolution of 480 x 360 pixels
The device sports a dual-core CPU clocked at 1 GHz, coupled with 512 MB RAM and 4 GB of internal memory
Connectivity options seems covered with quad-band 2G/3G, Bluetooth 4.1, Wi-Fi a/b/g/n, GPS/GLONASS, and USB 2.0
Also included are host of sensors, from a gyroscope to a heart rate monitor to barometer and everything in between
Powering the Gear S will be a 300 mAh battery which is rated for 2 days of standby time
There is also the additional smartwatch Bluetooth accessory called the Samsung Gear Circle that will allow you to place calls with your smartwatch in a less obvious way.
The Gear S measures 39.8 x 58.3 x 12.5T and comes in white or black options. As of now there is no news about the availability and pricing of the devices, but Samsung says that sales should begin in October.
TAGS: Accessories, smartwatch, Tizen, Samsung, Samsung Gear S, Samsung Gear Circle