The iPhone 6 Could Ship With A Cable That's Reversible At Both Ends | TechTree.com
The iPhone 6 Could Ship With A Cable That's Reversible At Both Ends
Apple doesn't seem to be waiting for the new Type-C USB standard to make cables truly reversible.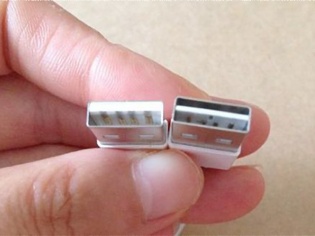 People are undoubtedly looking forward to the larger screens on the upcoming iPhone 6 models, but there will be several changes that will go unnoticed but make a world of difference. A new leak suggests Apple might be rethinking the design of the lightening cable, which may feature a reversible plugs at both ends.
Sonny Dickson, the man credited with leaking the iPhone 5C last year, posted a photo of a cable where the USB end looks like it could be plugged in either way up. Apple solved the issue with plug reversibility on the iPhone with the introduction of its propitiatory lightening port, but now seems to have fixed the issue on the other end.
The image of the USB plug reveals a floating center that would make it reversible. While this does count as a small change, it means Apple device users don't have to faff about while plugging their devices to a charger or computer.
[Also read: The Orientation-Less Type-C USB Connector Is Almost Here]
A new USB standard (Type-C USB) is already on its way and makes for truly reversible cables. While Apple doesn't seem to be adopting the new standard just yet, it could add similar functionality with the use of the older USB adapter itself.
It is expected that the Type-C adaptors and cables will make their way onto gadgets by the end of the year, but it will take some time for manufacturers to make the switch. Apple too is backing the new USB standard, despite its push towards the lightening connector as standard on all its devices.
TAGS: Apple, iPhone 6, Lightening Connector, USB Type-C