Leaked: Motorola to launch its mid-range Moto G2 on September 10
Along with uprated specifications, the device is also expected to cost more - around $335 to be precise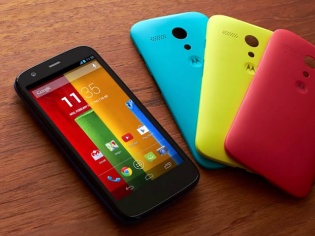 Motorola's upcoming flagship smartphone Moto X+1 isn't the only device rumoured to be in the company's pipeline, there's also the replacement for the mid-range Moto G. Just hours after a leak suggested the X+1 will be launched on September 25, GSM Arena is claiming the Moto G2 will be launched on September 10.
According to the report, the speculated launch date for the Moto G2 (or Moto G+1) pertains to Europe and possibly the UK. The leak comes from an unnamed retailer who claims to have gotten the information directly from a Motorola representative, adding that some retailers could receive the device as early as August end.
When it comes to pricing, the device will supposedly retail for around €250 ($335 or Rs 20,500), which is quite a bit higher than the current price tag of the Moto G. According to GSM Arena, if the price of the upcoming device is indeed true, it's a 25% hike over the price of the current Moto G LTE.
Previous leaks of the Moto G2 suggest the device will feature a 5-inch 720p display, and will be powered by a 1.2GHz quad-core Snapdragon 400 processor and an Adreno 305 GPU. The rear camera will be upgraded to an 8MP unit, while the front facing shooter will have a resolution of 2MP. The device should feature 8GB of internal storage with the option to expand, while the RAM remains the same at just 1GB.
[Also read: Leaked: Images And Specifications Of The Moto G's Successor]
Other details include the Moto G2 running on Android 4.4.4 KitKat right out of the box, but should be applicable for the Android L update once Motorola rolls it out. While the increment in price might make the Moto G's successor a bit less value for your money, there are a few signs that say this could indeed happen.
With Google all-set to sell Motorola's handset division to Lenovo, the iconic phone manufacturer could be desperate to cut its losses. During the announcement of the proposed deal, Chinese company's boss had even stated that given the chance he would turn Motorola's losses around within a few quarters.
If news of the Moto G2 launching on September 10 is true, the device could go official at IFA which is scheduled to be held at the beginning of next month. Motorola seems to be all-set to update its device lineup, possibly to maximize sales during the holiday season.
TAGS: Motorola, Moto G2, mid-range smartphone, Moto X+1, IFA 2014