OnePlus OneWatch Seems Ready For Showtime | TechTree.com
OnePlus OneWatch Seems Ready For Showtime
Leaked images point to a smartwatch with a... titanium case?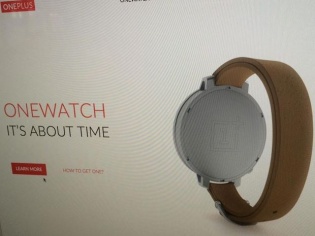 Well, its now time for round two as BGR seems to have gotten hold of some leaked images that actually show a OnePlus 'OneWatch' as the company calls it, along with sketches describing the hardware. The first image literally shows the product placed on the banner of what appears to be the OnePlus website, meaning that this could clearly be a product that is already hitting production.
As the product design sketches reveal, the OnePlus OneWatch will sport a titanium case (seems pretty much far-fetched) and sapphire glass to cover the round OLED display. This would technically make it the third smartwatch after the Moto 360, which has yet to be launched and the Samsung's newly leaked smartwatch, to sport a round display.
Round is definitely in when it comes to smartwatches, even though buyers have not waited for the launch of the Moto 360 but gone ahead and purchased the square G Watch and Gear Live.
Display aside, the OneWatch's sketches point to a battery that has been integrated into the strap and will come in leather options. Knowing how touchy OnePlus is when it comes to using the right materials this indeed seems like a possibility.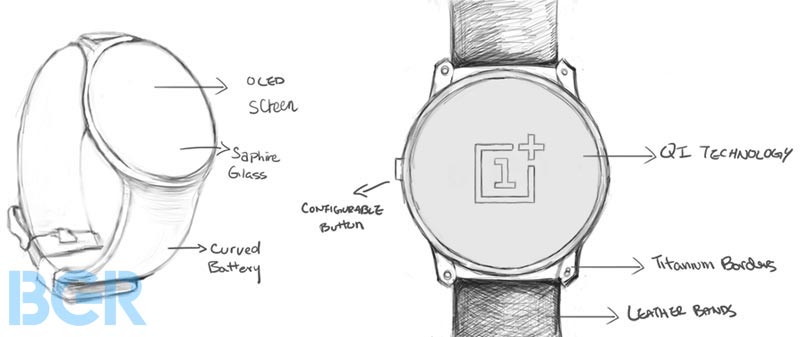 Do we see another contender in the smartwatch space? Well, it seems like a far-fetched idea for now, since Motorola with all its expertise is still struggling with a round display. Will the OnePlus OneWatch be powered by Android Wear? For now it certainly seems like the right path to take, with an ecosystem of supported apps that is already available for users.
Image Credits: BGRIndia
TAGS: smartwatch, wearable, OnePlus