Wipro Unveils e.go Aero Notebook Range | TechTree.com
Wipro Unveils e.go Aero Notebook Range
Includes 14" Aero Ultra with a slim magnesium alloy body, starts from Rs 40,000.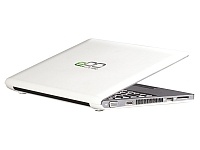 India's Wipro Infotech has taken a plunge into the ultrabook segment through its new product range. The product line dubbed as the e.go Aero includes the Aero Alpha, Aero Book, and Aero Ultra notebooks ranging from 11.6" to 14" screen sizes. The Aero Ultra is an ultrabook in this series, whereas the rest are regular notebooks.

The Aero Alpha is a no-nonsense notebook meant for everyday computing, and you get a choice of Intel Core i3 and i5 processors with it. The lightweight laptop ships with a white paint job and serves as an entry level device in this range. The Aero Book incorporates a 2nd generation Core i5 in a 11.6" form factor. It's targeted at consumers who want good computational power in a diminutive package.

The Aero Ultra is powered by Intel's Consumer Ultra-Low Voltage (CULV) series of Core i3 and i5 processors. This 14" ultrabook weighs just 1.7 kg, and includes a 500 GB HDD and 4 GB of DDR3 RAM. Its magnesium alloy shell is just shy of two centimetres. The Aero range starts at Rs 40,000, going all the way up to 49,000, depending on the configuration you pick.