Toshiba Launches Sparkling Satellite Laptops | TechTree.com
Toshiba Launches Sparkling Satellite Laptops
Offers a bit of Edward Cullen for Twilight fans.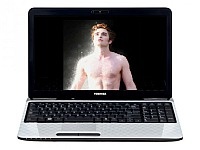 Good news for Twilight fans. If you are looking for that extra bit of sparkle in your life, Toshiba has just the laptop for you. The Japanese electronics major has launched the new Satellite L740 & L750 laptops under what it calls the Sparkling Satellite laptop series. If there's still a glitter-loving 14 year old girl hidden somewhere within, you may want to pick up one of these sparklers available in "grace silver, maroon brown and precious black". According to the press release, these laptops really do sparkle a la Edward Cullen.

Apparently, this is all that matters in a laptop, because the release mentions none of the processor and graphics nonsense. However, a quick gander at the L740 and L750's product pages reveals a rather confounding mix of Intel Core i3 and i5 processors mated to either Intel onboard or NVIDIA discrete graphics (GT 525M and GT 315M). The cheaper 14" L740 gets a Core i5, whereas the substantially more expensive 15" L750 has to make do with a Core i3 processor. RAM is expandable up to 8 GB, but variants within these two models offer between 2-4 GB options.
The rest of the specifications between the two models and their variants is too convoluted to be mentioned here. Read the full specs by clicking here for the Satellite L740 and the L750's product page here. The former costs between Rs 30,500 and Rs 34,650, whereas the latter is priced between Rs 30,000 and Rs 40,750, depending on the configuration you select.