WSJ: Apple Places Order For More Than 70mn Units Of The iPhone 6 | TechTree.com
WSJ: Apple Places Order For More Than 70mn Units Of The iPhone 6
The order will include both the 4.7-inch as well as 5.5-inch iPhones and will have to be met by the end of 2014.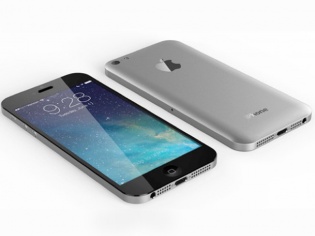 Apple has supposedly asked its hardware suppliers to manufacture between 70 and 80 million units of the upcoming iPhone 6 by the end of this year. The forecasted demand for the rumoured 4.7-inch and 5.5-inch iPhone 6 variants seems to be much larger than that of last year's iPhone 5s and 5c models.
According to a WSJ report, the initial order placed by Apple last year for the iPhone 5s and 5s was between 50 million and 60 million units. From the latest news it seems as though the company expects demand to far exceed that of last year, probably due to the device's availability in two different sizes.
Contract manufacturers Foxconn and Pegatron Crop will begin manufacturing the 4.7-inch iPhone 6 model next month, while production of the 5.5-inch variant will begin in September. Both devices will feature larger screens than the current flagship iPhone 5s, given that the market has been steadily moving towards larger-screened devices.
The smaller of the two devices will take on the likes of the Samsung Galaxy S5 and HTC One (M8), while the larger device is expected to go up against high-end phablets like the Galaxy Note and LG's recently launched G3.
[Also read: Not Every iPhone 6 Will Sport A Sapphire-Coated Display]
Both the new iPhone 6 displays are expected to use in-cell touch panel technology, introduced with the iPhone 5, allowing for thinner construction. The report suggests that there could be difficulties faced when producing the larger 5.5-inch panel using this technology.
Given that Apple is traversing uncharted waters with larger display sizes, there is a possibility of a higher failure rate for the displays. The company plans to counter this by asking component makers to be prepared to manufacture parts for up to 120 million units of the iPhone 6.
TAGS: Apple, iPhone 6, Foxconn, high-end smartphone, Phablet