Genius Launches SP-600 iPad Dock
Works with the iPhone and iPod as well.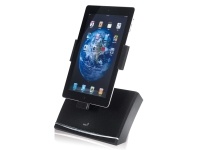 Do tiny speakers on your iDevice prevent you from showing it off? Then, you may want to take a gander at the SP-i600 iPad dock from Genius. It is also compatible with other apple touchscreen devices such as the iPhone and iPod Touch. The speaker dock hosts a pair of 2" drivers outputting a total of 4 W. That may not sound much, but this sustained RMS power is good enough for desktop usage.

The accessory lets you rotate your iDevice between portrait and landscape orientation, which crucial for watching movies. The inbuilt charging functionality makes the setup wire and hassle-free. The dock bears basic volume and power buttons, while a remote controller is provided for comprehensive control.

Even if you don't own an Apple device, you can still connect your notebooks, MP3 players, and pretty much anything sporting a 3.5 mm jack. The SP-i600 dock is priced at Rs 4650 and is backed by a warranty for one year.