Samsung Working On Ultrasonic Tech For Touchless Input | TechTree.com
Samsung Working On Ultrasonic Tech For Touchless Input
A patent filing in Korea shows a feature that uses ultrasonic sensors to triangulate the location of the stylus' input.
Samsung has apparently filed a patent application in Korea displaying some interesting ultrasonic technology, which may show up on its upcoming GALAXY Note 4 smartphone. The application shows four sensors located at the four corners of the device, assisting in locating the stylus' location on the screen.
What is more interesting here is that the patent filing states that while the three sensors will be used to locate stylus input on the screen, the 4 together can even locate the input from the stylus off the screen. Meaning that the Air gestures for S Pen users will only be getting better and lot more accurate.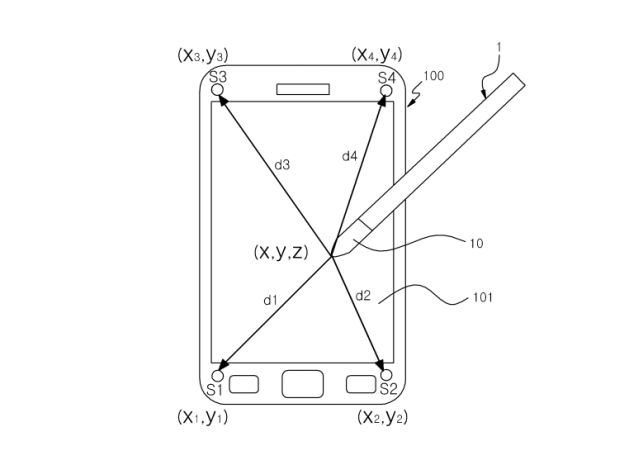 Now we all love how Samsung thinks and how they bring innovation to the smartphone space. The only problem is the execution of those ideas that somehow fall short and remain disconnected from the rest of the services offered by the Android platform.
[Also See: Samsung Note 4 May Feature An Eye Scanner]
Should we be expecting to see this ultrasonic technology on the upcoming GALAXY Note 4, definitely. Samsung did say that the upcoming Note 4 will be a complete refresh, so we are excited to see what they will bring to the battleground. But what remains to be seen is how practical this technology can be in day to day usage and the toll it would take on the device's battery life.
[Also See: Samsung Set To Launch Curved Note 4 And Gear Glass At IFA] n
TAGS: Mobile Phones, Software, Hardware, Samsung, Samsung GALAXY Note 4