Times Launches India's First Tablet Magazine
Currently free for the iPad.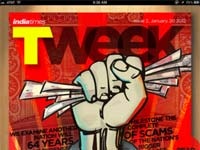 Times Internet Services (TIL), in partnership with GENWI, inventor of cloud-based mobile publishing, has launched Tweek, India's first and only magazine for tablets. While it is currently available only for the iPad on the iTunes App Store, it will soon be made available for the iPhone and Android devices as well.

The new magazine offers its readers, "an unparalleled experience in terms of interactivity, customisation, and usability", claims TIL Chief Executive Rishi Khiani. GENWI CEO and Founder PJ Gurumohan opined that Tweek will utilise the "power of the cloud and save time and production costs by reusing design layouts".

Tweek will bring the most interesting stories from the previous week. This general interest magazine will be refreshed regularly with news covering variety of topics including business, sports, lifestyle, politics, entertainment, among others, tailored to suit your taste. Multimedia features will be put to use by providing audio and video news-bits, which is not possible in traditional newspapers. In addition to customising the news to be delivered, you can also share your favourite stories on Facebook and Twitter. While it is certainly a welcome move, we think it will find greater success when it launches for smaller smartphone screens, which owned by a vast majority of our population.