Leaked: Supposed Screenshot Of The Windows 8.1 Start Menu | TechTree.com
Leaked: Supposed Screenshot Of The Windows 8.1 Start Menu
While there's no way to prove the legitimacy of the image, the Start Menu does look very similar to what Microsoft showed off at its Build conference.
Microsoft had promised the return of the Start Menu in Windows 8.1 at its Build developer conference back in April, thanks to a longstanding demand from users. Now we have a screenshot showing off the alleged Start Menu which cropped up on online forum My Digital Life.
In the past few months there hasn't been much to go on in terms of what the UI element would look like. If the leaked image is anything to go by, the soon-to-come Start Menu in Windows 8.1 will look very similar to what Microsoft showcased back at Build.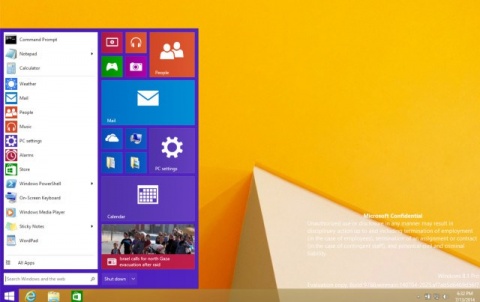 Media reports however have been split over the legitimacy of the image, with a source speaking to Neowin claiming the image appears to be legitimate, while TheVerge's Tom Warren says its Photoshopped. However an official conformation of what the new Start Menu will look like will only come close to the expected early 2015 roll-out.
What the leak does show is the positive sentiment among Windows users and fans of the UI element's return to the iconic operating system. Even if the image is a sham, it is expected that Microsoft will merge the traditional Start Menu with Metro-like tiled elements.
[Also read: Windows 9 Will Adapt Its UI Depending On Device And Accessory]
TechCrunch which got in touch with Microsoft for a comment on the leaked image was greeted with a reply that the company does not make statements based on rumours or speculation. Given the way Windows fans have taken to publicising the speculated Start Menu, it would be best if Microsoft just gave them what they want.
TAGS: Microsoft, Windows 8.1, Start Menu, operating system, Desktops, Laptops