Google's Project Tango Smartphones Head Out To Space This Week | TechTree.com
Google's Project Tango Smartphones Head Out To Space This Week
The devices 3D sensing capabilities will be the backbone of NASA's SPHERES robot program.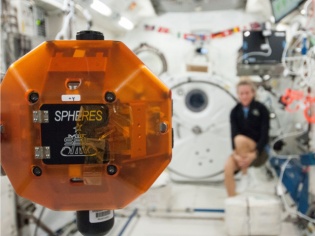 Google's 3D mapping Project Tango smartphone may be on its most ambitious mission yet, with NASA taking them to space this week. The devices will be the 'brains and eyes' of bowling ball-sized robots that perform experiments in the cramped interiors of the International Space Station.
The Project Tango smartphones have been playing a role in NASA's Synchronized Position Hold, Engage, Reorient, Experimental Satellite program, otherwise known as SPHERES. The phone's 3D sensors allow it to map just about anything in its surroundings, which has been its biggest boon to NASA's experiment.
According to a Reuters report, the spherical robots could one day "take over daily chores for astronauts or even handle risky duties outside of the vessel."
[See also: Google Partners With LG To Bring Project Tango To Consumers Next Year]
As SPHERES Project manager, Chris Provencher put it, "This type of capability is exactly what we need for a robot that's going to do tasks anywhere inside the space station." He added that the Project Tango devices were exactly what they needed in terms of processing, imaging and other sensory requirements.
According to the report NASA wanted to add communications, a camera, increase the processing power and bring on board various other sensors in order to make the SPHERES program work. That's when the boffins at realised that the answer was in their hands – smartphones.
TAGS: Google, Project Tango, 3D imaging, NASA, SPHERES