Samsung GALAXY Tab S To Be Launched In India Tomorrow
It hits the Indian shores just couple of weeks after its global launch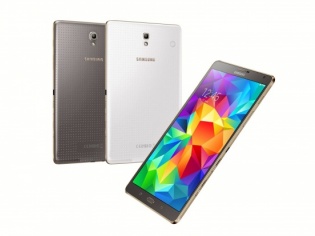 Samsung is all set to unveil its flagship tablets – GALAXY Tab S 10.4 and 8.4 – in India on Tuesday.
The tablet will be launched in India just a couple of weeks after its global launch and interestingly GALAXY S5 Smarphone also came to India a few days after the global launch. This might be an indication that Samsung is taking the Indian market seriously.
Samsung is already the biggest shareholder in the Indian tablet market and has more variety than any of the other companies and with this launch the company is looking to consolidate its position in this segment.
[Also Read: Complete specs of Tab S]
Earlier in the month, the company had globally unveiled the tablets at an event in New York. Now, the tablets are finally coming to India and both are Samsung's answer to Apple's iPad Air and iPad mini with Retina displays.
It also has a feature similar to Apple's Continuity and Google's new synced notifications for Android "L", where the tablets are synced with a Samsung smartphone allowing the user to take calls from the tablet itself.
Even though the company hasn't released the prices, in the US, the 8.4-inch model costs $399 (Rs.23,965) and the 10.5-inch model costs $499 (29,995).
[Also Read: Tab S thinner than iPad]
TAGS: Samsung, Galaxy Tab S, Tablets