Creative Intros Three WP-Series Bluetooth Headsets | TechTree.com
Creative Intros Three WP-Series Bluetooth Headsets
Each features a mic concealed in the earpiece, and is touted to sport near-audiophile quality.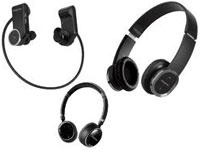 Creative Technology has launched three new Bluetooth headsets in its WP series: the WP-450, WP-350, and WP-250. These devices are primarily meant for smartphones, but also promise to be good for music players such as the iPod. In terms of size, the WP-450 is the largest with an around-the-ear design, followed by the WP-350 with an over-the-ear cup construction, while the WP-250 is the smallest and has an in-ear form factor. To facilitate voice communication, these headsets have an embedded microphone that Creative prefers to call an "invisible mic" due to its inconspicuous placement. Here are a few key features of the WP-450 headphones as stated by the company:
Ergonomic and lightweight with supra-aural design and soft leatherette ear cushions.
Audio-video synchronization with apt-X technology.
Easy access call and playback controls with volume-level buttons.
Headphones fold into a compact bundle for storage and travel.
Music playback up to 8 hours and talk time of up to 9 hours.
Bundled with soft protective pouch for ease of travel and USB cable for charging.
The Creative WP-350's key features:
Shares the same sonic acoustic properties as the highly acclaimed Creative WP-300.
Flat-fold design for portable convenience.
Music playback up to 8 hours and talk time of up to 9 hours, Bundled with protective pouch.
Finally, the Creative WP-250's features are as follows:
In-ear and behind-the-neck design for secure fit during active use.
Convenient call and playback controls with volume adjustments on ear-bud.
All the headsets have these common features:
Neodymium drivers.
"Invisible microphone" delivers distinct voice calls.
While Creative may state otherwise, it's a well-known fact that audio fidelity cannot be maintained once it passes over a lossy communication protocol such as Bluetooth. However, it remains to be seen whether the apt-X codec can really improve audio quality in case of the WP-450 and the WP-350, because Creative has stopped just of branding them "audiophile-grade". The Creative WP-450, WP-350, and WP-250 are priced at an MRP of Rs 8000, Rs 6000, and Rs 3600 respectively.
TAGS: Headphones, Accessories, Creative, Jayesh