Android L Coming To Moto X & Moto G This Autumn: Motorola | TechTree.com
Android L Coming To Moto X & Moto G This Autumn: Motorola
There is however no confirmation of the Moto E getting the Android L update, which has us beleiving it could get Android One instead.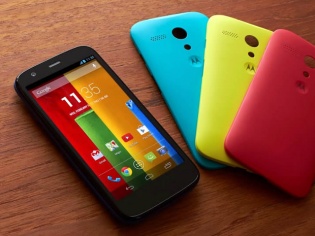 Its been just over a day since Google unveiled Android L and Motorola Germany has already confirmed that the update will be coming to its Moto X and the Moto G smartphones. The announcement was made via the German unit's Facebook page, where it said Android 5.0 was coming to the two devices this autumn (Sep-Nov).
"Android 5.0 arrives in autumn on Moto X and Moto G. Do you like the new design?" wrote Motorola Germany on its Facebook page.
According to BGR, in the discussion that followed on the post, Motorola Germany said it wasn't sure if Android L would be rolled-out to the budget Moto E device. However, since the company has already promised that the Moto E will be updated to the next version of Android, it could mean the device gets Android One instead.
[See also: HTC: One M8 And M7 To Get Android 'L' 90 Days After Final Release]
We're still not clear as to how different Android One will be different from Android L, but we're assuming it will be a no-frills version of the same OS. Google did not reveal much about the user experience of Android One, but did say it would offer users of low-cost devices the stock Android experience and updates directly from Google.
The announcement by Motorola comes soon after HTC vowed to release Android L within 90 days of its launch for its One M8 and M7 devices. However, its good to see Motorola bringing the update to not just its flagship phone, but also its ultra-popular budget device.