Here's The Winning Design Of The Moto 360 'Face-Off' Competition | TechTree.com
Here's The Winning Design Of The Moto 360 'Face-Off' Competition
The winning concept combines traditional time-piece design with a modern touch, literally what Motorola was looking for.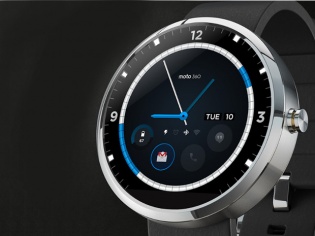 To spark off some interest in its upcoming Moto 360 smartwatch, Motorola last month announced that it was accepting submissions for watch faces designed for the device. Out of the 1,300 entries, the company chose the ten best submissions, but has now chosen David Pascual's concept as the winning design.
The bounty? Pascual will receive one of the first Moto 360 smartwatches, which will go on sale to the public sometime this summer. Motorola showed off the device for the very first time to attendees of the Google I/O held in San Francisco on Wednesday, and it's clearly the most stylish Android Wear device yet.
[See also: LG & Samsung's Android Wear Smartwatches Now Available In India]
Pascule's watch face concept combined traditional time-piece design with modern amenities such as a customisable notification widget. The design resonates with what Motorola were trying to create with the Moto 360, a modern time-piece, rather than a device that was an extension of your smartphone.
The designers efforts aren't just eye-candy or some marketing gimmick either. Motorola at the beginning of the contest had announced that it had the freedom to use any of the submitted designs for its upcoming Android Wear device, so Pascule's watch face could be the one on your Moto 360 when it does ship to customers.
TAGS: Motorola, Moto 360, Android Wear, smartwatch, wearable, Google I/O 2014