US Patent Filing Shows Lenovo's Equivalent To Google's Glass | TechTree.com
US Patent Filing Shows Lenovo's Equivalent To Google's Glass
Lenovo calls it a recording device rather than a wearable, presumably to avoid competitor lawsuits.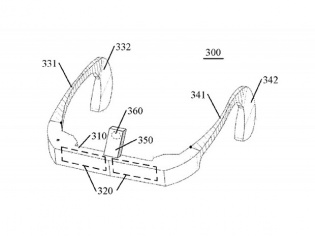 Lenovo has just become the next tech giant to look into Google Glass-like wearable technologies, as seen in a filing on the USPTO website. While the Chinese company very carefully describes it as a recording device rather than a wearable, it has all the hardware to turn it into a wearable heads-up display (HUD).
According to TechCrunch, the device is fairly simple, consisting of an audio and video recorder along with dual screens. It carries a stark resemblance to Google's Glass but the touch-based navigation and bone conducting microphones set it apart.
Lenovo would use bone-conducting microphones to capture the wearer's voice more clearly, without having to compete with ambient sounds. Google on the other hand just makes do with noise-cancellation microphones, but Lenovo's method will indeed make for more privacy, since you could speak softly and still get the message across.
A method for communicating wirelessly completes the basic requirements for making a wearable device, and is the final piece of Lenovo's device. As TechCrunch notes, describing it as a recording device rather than a wearable could be a move to ensure competitors don't hail down on the company with lawsuits.
[See also: New Google Glass Devices To Ship With Twice (2GB) As Much RAM]
Whatever the case may be, there is no guarantee that Lenovo will make such a device let alone ever get to selling it. It's the classic case of a company with strong financials ensuring its piece of the pie if a technology ever goes big. Following the launch of Google Glass, it's safe to assume that all tech giants are currently building similar devices.
Currently Lenovo's stronghold is in the PC market, but it is rapidly expanding its dominance in the mobile market. The company's recent acquisition of Motorola from Google is reminiscent of the company buying PC maker IBM, which truly put it in the big league.
TAGS: Lenovo, wearable, Google Glass, Motorola, IBM